Your little one deserves the best that life can offer. And that includes finding the best baby wipes in the market. While that might seem like overkill for you, not all baby wipes aren't made equal. Some might have a fragrance, others are too wet while some are too dry. A few might feel rough on your baby's skin. Then there are baby wipes that are too fragile, breaking apart as you wipe off poop from your little one's bum. 
Seeing as these wipes are as necessary as diapers and that you'll be using them daily, child experts believe that you'll use thousands of these in the first two years of your child's life. Obviously, you want to make sure that your choice doesn't negatively affect your baby. To help you avoid getting overwhelmed by the number of choices available, we found the 5 best baby wipes for you. We even included baby wipe reviews so you can make the right choice for your child.
Top 5 Best Baby Wipes of 2020
[lwptoc hierarchical="1″ numeration="none" skipHeadingLevel="h1,h4,h5,h6″]
Pampers Sensitive wipes is a proven product, endorsed by hospitals, pediatricians, and dermatologists. These hypoallergenic, fragrance-free wipes are thick which makes them the perfect choice to handle extremely messy situations. And if you've never encountered them, trust us. You will and you'll be thankful to have these wipes on hand. Moreover, they're really thick, about 20% thicker compared to regular Pampers wipes. They also feature a unique Softgrip Texture . They're built to handle tough situations and won't be disintegrating at the first wipe. Plus, these wipes don't contain any paraben, alcohol, phenoxyethanol, and perfume. In fact, the ingredients used in these help restore the pH balance of your little one's skin. Pampers offers these wipes in tubs and refill packages. However, the refill packages don't feature a resealable lid. You'll need to look for a travel-sized reusable container if you want to use these wipes on the go.
PROS:
Hypoallergenic

20% thicker

Resorts pH balance of skin
CONS:
Refill packages are not resealable.

Some parents think these wipes are too wet
If you're on a strict budget but don't want to compromise on quality, have no fear. Amazon has got your back. Amazon Elements Wipes is a product inspired by the comments of customers regarding what they want and don't want in their wipes. This data combined with the expertise of baby wipes manufacturer Nice-Pak, they came up with these baby wipes designed for newborns that will get the job done. They contain a variety of ingredients including 98.3% pharmaceutical-grade purified water, aloe, organic shea butter, fruit and flower extracts, and vitamin E. What they don't contain include phthalates, alcohol, dyes, and parabens. And because this is Amazon, you can check the specific ingredients, date and place of manufacture date of delivery, and 'best by' date of your particular package by scanning its unique code found on the packaging. Plus, you can choose Amazon's auto-delivery option and save around 5 to 15% on each order. You get to save money AND you no longer need to worry about running out of baby wipes. 
PROS:
Amazon auto-delivery

No harsh chemicals

Budget-friendly
CONS:
Some natural ingredients can cause allergic reactions

Not biodegradable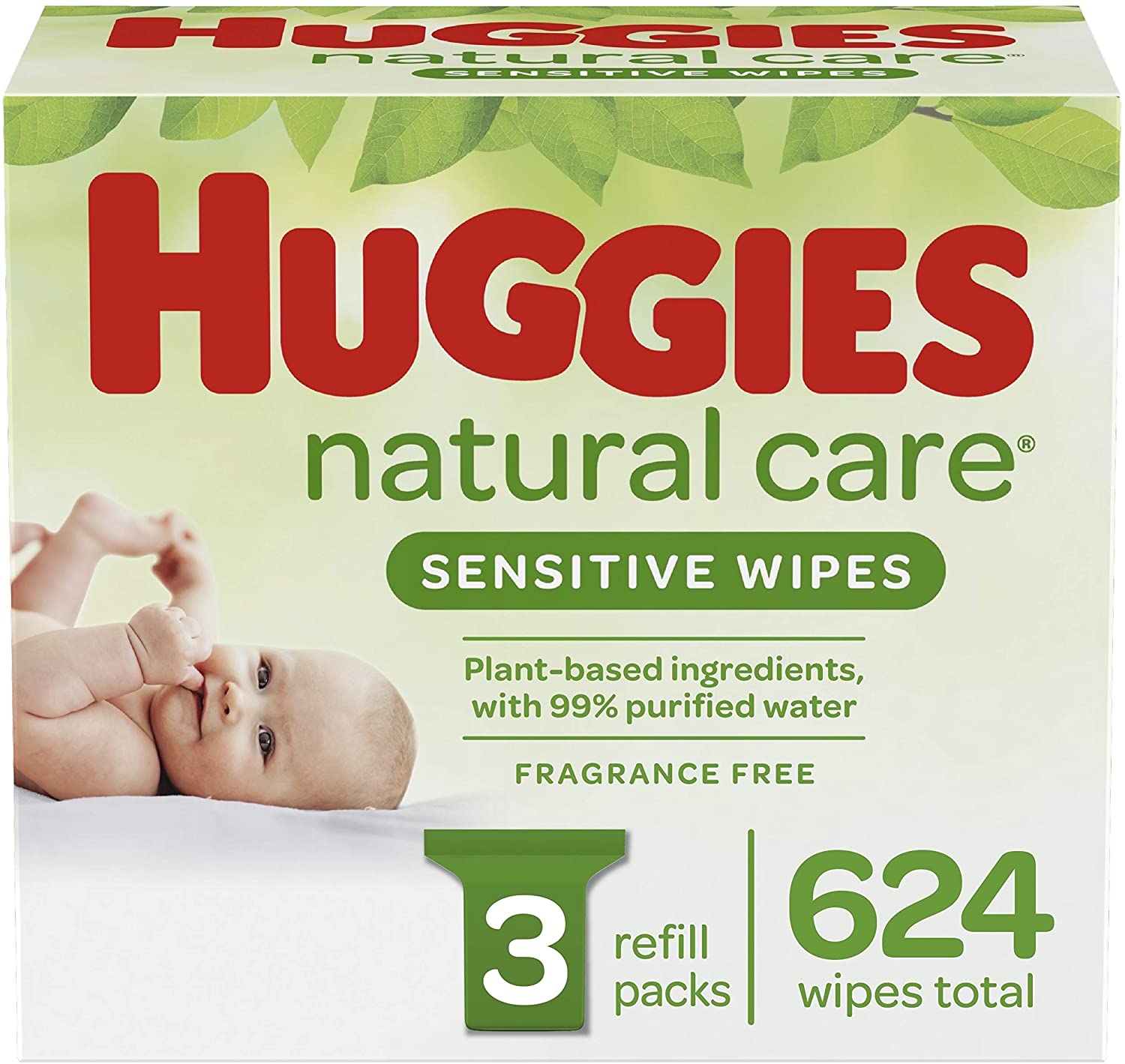 The Huggies Natural Care wipes are a newborn parent's best friend. These wipes are specifically designed for the ultra-sensitive skin of newborns. They're free of chemicals such as parabens, alcohol, and fragrances, so you don't have to worry about rashes or allergic reactions. Instead, Huggies baby wipes only contain natural ingredients such as water, vitamin E, and aloe vera. In addition, the wipe is quite thick for easy and faster cleaning. More importantly, these wipes can be bought in bulk, tubs, and plastic sleeves. The tubs are very easy to use; you can quickly take one wipe out with one hand while holding your wiggly baby in the other. Plus, the tub can be closed to prevent the rest of the wipes from drying out. The refill pouches, on the other hand, fit easily in a reusable container, so there's no need to keep buying the tub when you run out. 
PROS:
All-natural ingredients

Available in various containers

Refillable
CONS:
Refill pouches don't seal closed

Some consumers claim it has a soapy feel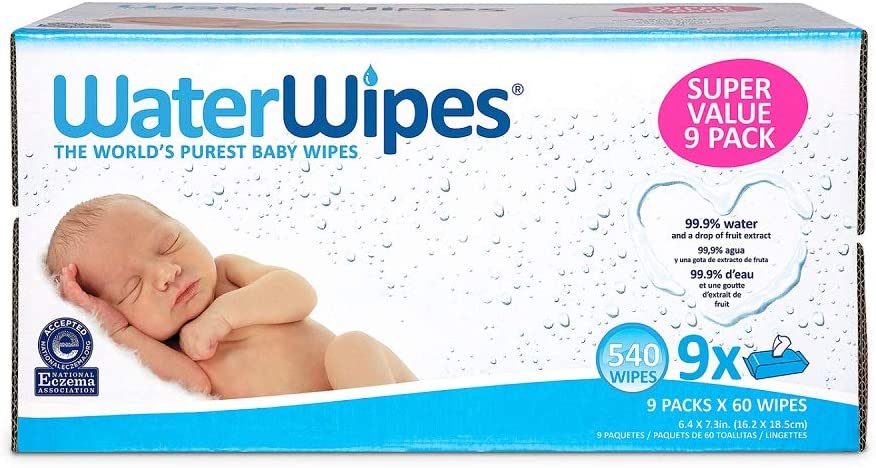 WaterWipes Unscented Baby Wipes is another great option for parents of little ones who have sensitive skin. These wipes have the National Eczema Association's seal of approval. In fact, these wipes have also received awards since its launch such as Family Choice Award, Babylist Best Winner, and Gentle Parenting Gold Winner. And it's easy to see why. They are free of alcohol, fragrances, phthalates, formaldehyde, and other harsh chemicals. Instead, these wipes are 99.9% purified water with a little grapefruit seed extract to keep mold away. Because of the extremely short ingredient list, you'd be hard-pressed to find anything on these wipes that will irritate your baby. As an added bonus, you can even use these to massage your baby's gums when he or she is teething. They're that safe. However, the lack of chemicals means that these wipes tend to be more susceptible to mold. So, make sure that you don't buy too many at a time. In addition, the wipes tend to clump together which can get frustrating if you're operating these one-handed due to a wriggly baby. 
PROS:
Hypoallergenic

Travel-sized packs
CONS:
Wipes tend to Clump together

Expensive
Kirkland baby wipes are one of the biggest wipes we've ever come across. The extra-large size means fewer passes across your baby's skin. It also means less waste. More importantly, it means that it covers your whole hand. You'll be thankful for this extra protection. But that's not all that's great about these baby wipes. The sheets are made from 100% renewable resources, specifically Tencel which comes from the cellulose inside trees. The material is naturally absorbent. It's very soft which is perfect for newborns. Plus, they're biodegradable which means you're not adding to the waste in the world. And here's another fun fact about these baby wipes – it has a carbon footprint that's 30% smaller than cotton manufacturing. Not only are you taking care of your baby when you get these wipes, you're also taking care of our environment. And as an added bonus, these come in a plastic package that features a snap shut solo lid. There's no need to worry about the wipes drying out. At the same time, they're easier to squeeze in your already full diaper bag because the packaging is flexible, not hard.
PROS:
Large

Very absorbent

Biodegradable

Hypoallergenic
CONS:
Pricey

Wipes clump together at times
FAQ:
Is it really difficult to choose the best baby wipes?
You probably thought that it wouldn't matter what brand of baby wipes you get. The Costco baby wipes should be good enough to get the job done. Right? Unfortunately, it's not that simple. You can't base your choice on price alone. There are a variety of baby wipes in the market – scented and unscented, thick, textured, and sensitive. If you want to avoid getting into sticky situations (ewww), then you need to make sure that you do your homework.
How to choose the best baby wipes?
There are a number of factors that you need to consider when choosing the best baby wipes for your child.  
Ingredients
Generally, baby wipes are non-toxic. But it is still important that you know what you are using on your little one's skin. The only way for you to do that is to read labels and do your research. Harsh chemicals are a no-no, obviously. You should also check if a certain product causes a reaction on your baby's skin. Knowing the ingredients of that particular product can help you avoid choosing another that has a similar makeup. For babies with sensitive skin, you may need to look for wipes that are hypoallergenic or those that are made with all-natural ingredients. 
Thickness
This is non-negotiable. You don't want a wipe that tears apart while you're dealing with a particularly messy diaper. The thicker the material of the wipe is, the better off you'll be. More importantly, if a wipe is thick enough, you won't need to make a lot of passes across your baby's skin to get him/her cleaned up. This means you're less likely to irritate your little one's skin during the process. In addition, the less waste you'll generate. 
Textured
Ideally, you'll want something textured as this would help wipe away the mess more easily. However, you also need to make sure that the sheets are not scratchy or abrasive because that could irritate your baby's skin. Make sure to test the wipe on yourself first. 
Packaging/Container
Baby wipes can come in travel-sized packs and giant tubs. Buying in bulk is going to save you money as travel-sized packs can be a bit pricey. But having a portable package is a necessity if you're going to be out of the house with your baby. To help you lower down the cost, save one of the reusable plastic containers that some wipes are sold in. Then, just restock them using the wipes you bought in bulk. 
Scented or Unscented
This is entirely up to you AND your baby's skin. Your little one probably won't notice how good his/her bum smells. But his/her skin might take exception to the ingredients that are responsible for creating that fragrance. Just keep in mind that the fragrance is not necessary for cleaning poop and pee. 
Take note that you won't really know what is best for your baby until you try them out. Each baby is unique. What works on your friend's baby might not work as well on yours. So, make sure to only buy a small pack to begin with and test it on your skin as well as your baby's. Once you find which wipe works best, then you're pretty much set for the next couple of years. 
Which brand offers the best baby wipes?
To be honest, a well-known brand does not equate to a better wipe. Of course, some brands such as the Huggies Natural Care wipes are at the top of the list. But it's not just because of the brand. Their product is perfect for newborns, especially if you want one that's gentle on your baby's skin. Moreover, these come with a refillable pouch which means you can buy in bulk in the future and just reuse the pouch for easy access. Pampers Sensitive baby wipes and Kirkland baby wipes are both great alternatives as well. In short, there's really no "best" for everyone because each baby and parent has their own requirements and preferences. But these three brands are at the top of the list of our recommendations.
Pampers Sensitive wipes vs Kirkland baby wipes vs Huggies baby wipes:
We've already mentioned that Huggies Natural Care wipes, Pampers Sensitive, and Kirkland baby wipes are our top favorites. And we'd be hard-pressed to choose which one is best. It will all depend on you and your baby's needs. That being said, we can help you figure out which are the best baby wipes for you by doing a side-by-side comparison.
| | | |
| --- | --- | --- |
| Pampers® Sensitive™ | Kirkland Baby Wipes | Huggies Baby Wipes |
| hypoallergenic | hypoallergenic | hypoallergenic |
| Safe for all ages | Safe for all ages | Safe for all ages |
| Dimensions: 7" x 6.8" | Dimensions: 7.1" x 7.9" | Dimensions: 7.7" x 6.7" |
| Comes in hard plastic tubs and flexible plastic sleeves | Comes in plastic sleeves with flip top | Comes in hard plastic tubs and flexible plastic sleeves |
| Helps restore pH balance | Biodegradable material | Includes Aloe Vera and Vitamin E |
Can baby wipes expire?
Technically, baby wipes do not have an expiration date. But they do have a shelf life of two years if they remain unopened. However, once opened, their lifespan will depend on several factors such as ingredients, type of package, and storage conditions. It's possible that your wipes will dry out if they're not stored in a properly sealed container. They could also become less effective. Worse, mold could grow within the package, especially if there are no chemical preservatives included in the ingredients. It would be best that you only buy as much as you'll be able to use in a month's time, not more than that. In the current period of coronavirus also don't forget to regularly disinfect your baby's hands with the best hand sanitizers.
Are baby wipes bad for the environment?
The answer to this question is YES!
Baby wipes are bad for the environment.
A large amount of those wet baby wipes hold microplastic fibers. These fibers do not biodegrade, thus harm the environment.
Can baby wipes be flushed?
Mainly, it depends on the manufacturer.
Sometimes, they indicate on the labeling that the product is "flushable."
However, the experts say that there are no flushable wipes, as they do not break down in the water. This can result in a clogged-up plumbing system in the house.