With rice being a substantial part of many homes with moms and children cooking and diets, some of the best rice cookers have found their way into many kitchens.
Practically in all countries, rice is an important cereal crop. Those who love to eat rice but hate to spend time cooking it, can now heave a sigh of relief. There are rice cookers available that allow you to steam the rice to perfection and also aid in keeping the rice warm after cooking.
The convenience of this appliance will allow people to prepare meals involving rice in a quick, healthy manner. This will be a better alternative from space saving kitchen ideas to eating out on nights when you do not have time to slave off the stove for an hour.
If you are wondering just how to use a rice cooker, rest assured, rice cooker instructions are quite simple. Below, we compiled a review of the top rice cookers in 2020.
Reviews of the Top Rice Cookers in 2020
[lwptoc min="2″ depth="6″ hierarchical="1″ numeration="none" title="Contents" toggle="0″ labelShow="show" labelHide="hide" borderColor="#d8d8d8″ linkColor="#f46100″ hoverLinkColor="#f46100″ visitedLinkColor="#f46100″ useNofollow="1″ skipHeadingLevel="h1,h4,h5,h6″ skipHeadingText="" containerClass=""]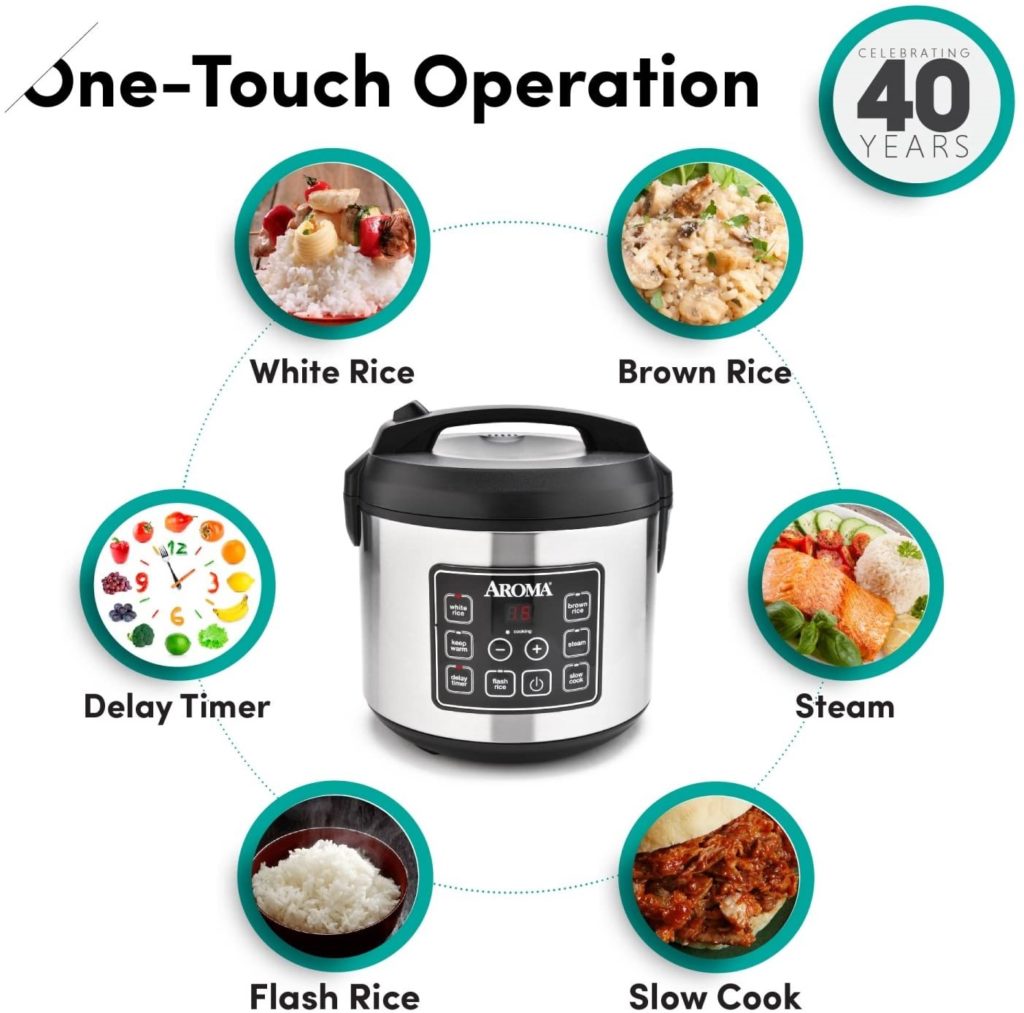 Aroma Houseware's ARC-150SB multi-functional use allows you to flaunt your creative side to accomplish the best rice whether you are in the mood for steamed vegetables, fluffy cakes, and even a hearty jambalaya for your family and/or guests at home.
The ARC-150SB  digital rice cooker's built-in steamer function allows for all nutrient-rich meals to be prepared above while soup, rice, or any other additional meal cooks below, helps you save plenty of time without compromising quality.
This multicooker not only includes all of your options in cooking your favorite dishes, but also holds a unique choice or two of slow cook and saute-then-simmer STS, making meals tasty, exquisite, and a guaranteed family favorite.
The ARC-150SB has a capacity of 4-20 cups of cooked rice and measures 11.1″ X 11.2″ X 10.8″.
This best rice cooker is extremely simple to use. Powered with 120V/60Hz 860W along with its user-friendly smart digital panel to keep warm automatically once cooking is finished. You can make use of your time wisely and effectively with it. The Aroma Houseware's ARC-150SB accessories include a plastic rice spatula, rice measuring cup, and a non-stick inner pot.
Pros
Compact
Multi-feature settings
Easy to use
Serves 4 – 20 cups of cooked rice
Cons
Tends to spew all over
Reduced quantity
Cord unit a little shorter
Aroma Rice Cooker Recipes:
Zojirushi is no doubt one of the top manufacturers in its field. Their rice cooker is built with a special panel that monitors certain characteristics of the food being cooked, such as weight, moisture, and temperature.
The result is those small adjustments in time and temperature are made throughout the cooking process.
The inner bowl and the inner lid are both removable and it also has a quality non-stick layer. Other accessories include 2 rice measuring cups and a spatula for serving cooked food.
Measures approximately 14 by 8 by 9 inches.
The Zojirushi Neuro Fuzzy 's 5-1/2-cup computerized rice cooker and warmer with advanced Neuro Fuzzy logic technology.
This cooker is wall mountable as well. Menu settings include white (regular/sushi, softer or harder), mixed, porridge, sweet, semi-brown, brown, rinse-free, and quick cooking. The cooker's nonstick, spherical inner pan allows for uniform heating; LCD clock and timer; retractable cord. Electrical Consumption at 120 volts / 680 watts.
Pros
Multi-functional
Microcomputer technology
User-friendly
Compact
Cons
Expensive
Cooking time can extend to a longer time than expected
Enjoy the benefits of Cuckoo Electric Heating Pressure Cooker by making your own cheese and yogurt and cheese at home! Its pre-programmed multi-cook functions give you versatility: bread baking, porridge, soups, sushi rice, and many more.
With its 6 different pre-programmed settings, take the guesswork out of cooking. Try it with hot cereals, steam cooking, heat and/or simmer, whole grain, and rice.
The nutritional benefits of GABA rice aren't that difficult. The cooker's Smart Algorithm DSP technology is meticulously built to match your taste GABA mode in making healthy and delicious brown rice with less soak time.
This cooker helps maintain your rice's texture and taste by collecting excess water vapors after cooking. Can hold 10 cups uncooked rice ( 5.3 Quarts/5 Liters), HP (Heating Plate) Programmable Pressure Cooker (AC120V / 60hz).
Pros 
Pre-programmed settings
Easy to clean and maintain
Powered by Smart DSP technology
Cons
Function settings can take a little long
Wears out from continued/excessive use
The revolutionary Hamilton Beach Slow Cookers will take the convenience of slow-cooked food a giant step ahead due to some great thinking. The 37543 deals with a lot of your greatest issues – transporting a finished dish to a potluck or social get-together while avoiding awful spillovers.
If you need a functional rice cooker in your house, you are going to be blown away by the captivating design, uncomplicated features, and a job easily done by the best rice cooker Hamilton Beach Rice Cooker.
Hamilton Beach slow cookers remain very nice due to the fact that they indeed do all of the work even while you're away. After you put the food to the cooker, there is hardly any, if any at all, oversight required.
Additionally, some of the most enjoyable meals are definitely simple, only half a day of cooking your excellently mixed ingredients and herbs, and you're going to have a really tasteful lunch. Measures 10.59 x 11.3 x 11.42 inches.
Pros
Excellent multi-function rice cooker
Easy to use
Cook rice for all occasions
Cons
Not the easiest one to clean
Doesn't come with a clear lid as others do
Super short cable (2-3 feet)
Duo Nova allows you plenty of time to move around and do other things as it cooks your meal quickly and safely with minimal mess and easy cleanup.
The Instant Pot is yet the most trusted name in cookers with all the convenience and quality you've come to expect from a multicooker, making it easy for beginners.
Compact and convenient, this 3QT mini model makes cooking up to 3 people with your favorite dish.
This is one multicooker that is built with a sophisticated microprocessor that adjusts and monitors time, temperature, pressure, and heat to cook food up to more than 60 percent than other methods.
Instant Pot seals instantly with its easy-seal lid for seamless and efficient cooking. Steam release is also efficient with the safe and fast push of the quick-release button. Durable and dishwasher safe, the Duo Nova's food-grade stainless steel 304 (18/8) cooking pot comes without the chemical coating.
Pros
7in 1 cooker
Quick Touch button
Quick Cool lid
Cons
Small valve which only causes cooker to boil slower
Has electrical issues
Rice Cooker FAQ – How to Choose the Right Electric Rice Cooker
How To Use Rice Cookers?
Given the many varieties of rice, we can now purchase (rather than the long or short grain we once had the choice of), we can now use this grain as a delicious side dish or part of the entrée.
The proportion of rice and water is the same regardless of the method you follow. The same setting is there in the case of electric rice cookers. The difference is that in a pressure cooker, you need to count the number of whistles and stop heating further.
This is being taken care of by the internal thermostat in the rice cookers which does not allow the internal temperature to rise beyond water's melting point.
How To Use Aroma Rice Cooker?
Remove the pan and the inside lid of your cooker. Measure some amount of rice that you are going to cook with your device. Rinse the rice well. Move the rice into the pan of your rice cooker with cold clean water up to the watermark. Place this pan and the inside lid to your rice cooker. Close the lid tight.
Turn your device on and set it to the cooking mode. Usually, different products come with different types of switches. Just need to wait for the device to cook the rice for you.
How Long Does It Take To Cook Rice In  Rice Cookers?
Many people eat rice as a staple food. But, cooking rice can take a long time. In some instances, it may take about 45 minutes to a full hour. Thanks to modern technology, cooking rice can be done in simple, yet plenty of ways possible.
Waiting for that much may not be worthwhile for the busy person. With today's rice cookers, you can simply cook as much rice as you want, and with various recipes to suit your tastes.
From poaching eggs to making Sushi rice, cooking has never been this fun and easy. Make sure that you have washed the rice clean with the water on its exact mark in the pot, and choose among the settings.
Rice meals vary from one to another. With the help of electric rice cooker/pressure, you are in for healthy and easy rice recipes that you can make anywhere.
How To Cook Rice In Pressure Cooker?
A number of more advanced models rice pressure cooker can also be somewhat staggered, allowing the user to add the rice and water at any time of the day, set the desired finish time, and leave the cooker to turn on, heat up and complete the cooking process exactly when required.
How To Clean Rice Cookers?
Ensure the rice cooker is turned off. Remove the inner pot and lid, with warm, soapy water. Do not use too much abrasive force if the pot has a non-stick coating. Rinse with a clean damp cloth, dry thoroughly.
About Rice Cooker
Though there are many types of the best rice cooker today to convert the raw hard grains to steamed soft food, the bottom-line is to make the rice to contact with the steam and convert its nature. The hot water when absorbed by the hard rice grains, it softens them and makes it palatable and easy to digest.
If you are looking to cook and serve an easy but sumptuous rice dish, a good and reliable rice cooker is all that you will ever need. There was a time when you would cook it in a pot on top of the stove, and you hoped it would turn out nice and fluffy and not run out all over the stove.
More often then not, you ended up cleaning the water that ran all over the stove. Today, when you use the electric cooker you will have perfect fluffy delectable rice to serve your family.
While your cooker is keeping your rice warm and fresh, it is not losing any of its vitamins. You can serve the same healthy meal from the cooker no matter how long it has been warming.