It is always an issue of where to put the mobile phone. If the place is safe then practical usage possibilities are limited. A good solution to this is phone holders that have become more and more popular during the last decade. In the bathroom, in the kitchen, and living room phone holders are essentials. Nowadays a very popular usage has got car phone mounts. Hundreds of models and designs, materials, and shapes of an in-car phone holder make the choice difficult and challenging. People search for the best car phone holder to feel comfortable in the car and not to think about the safety of their mobile phones during driving. How to find the best car phone mount? Does it exist? 
There are many updated models of car phone holders in the market nowadays, all of them have their positive characteristics and features. However, do they fit under the description of the best phone holder for a car?   
Top 6 Phone Holders for Car
[lwptoc numeration="none" skipHeadingLevel="h1,h4,h5,h6″]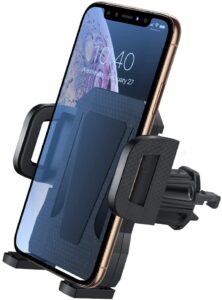 This air vent phone holder has a renewed design. Its clip hook catches one of the car's air vent blades. The clip plate and tightening nut are responsible for the fixation and offer complete safety to the gadget. Its measures offer a wide range of compatibility with different mobile phone models from iPhone 11, 11 Pro/ Max/ XR/ XS/ X/ 8/ etc., Samsung Galaxy S10/ Plus/ S9/ S8, etc, to Sony, Huawei, Nexus, Nokia. Its adjustable clip makes it adaptable to models of different shapes and measures. Miracase Phone holder is comfortable for one-hand management. It holds the phone so tight that there is no need of holding the phone to operate. Miracase phone holder can be rotated 360-degrees. It can be used in any orientation and from horizontal to vertical and upside down and more. The dimensions are also favorable (15.9 x 7.9 x 1 inches). 
Pros
very secure 

adjustable to many models

flexible

solid materials
Cons
It does not hold a manual for installation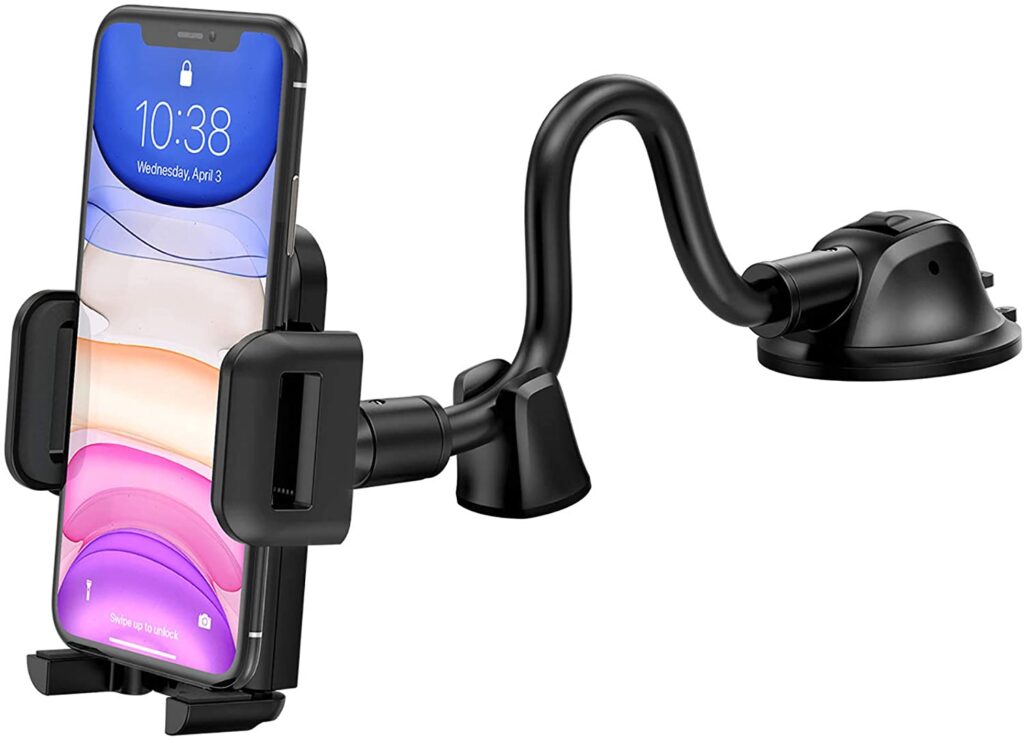 This car phone holder has a long arm with a sticky suction cup. The long and flexible arm can approach the phone mount to you without sight obstruction. It is flexible and can bend. Its simplicity and usability make this phone holder very popular among the customers. It is compatible with iPhone 11/ Pro/ Max/ XS/ XR etc., Galaxy, Moto, and more phone models. The main feature that makes this car phone mount functional is its anti-shake stabilizer characteristic. The suction cup applies a safe and strong fixation and reduces the vibration even on rough roads. This phone holder has a 360-degree ball head, which provides flexibility to the product and the possibility to see the phone screen from different angles. 
Pros
secure

easy adjustable

holds phones with heavy cases

reduces vibration
Cons
not adaptable for the pop mounts

doesn't have an instruction material
This device has an air vent adjustment. It is compatible with iPhone 12 11 Pro Max XS XS XR X 8+ 7+ SE 6s 6+ 5s 4, Samsung Galaxy S4-S10, LG, Nexus, Nokia, and more. There is a release button on this device to move while removing the mobile phone. The arms of both sides hold the phone. It is easy to adjust and has a 360-degree rotation. This rotation possibility provides a view from the most comfortable angle. There is no need for any tool to install or remove the phone from this car phone holder. It is safe to use with one hand, however, it offers high security only if the phone does not have any case.  The best thing about this gadget is that it is compatible with nearly all mobile phones. Its dimensions are favorable for any car (2.72 x 3.39 x 5.51 inches). This car phone mount holder withstands heat and cold. 
Pros
the release button makes it easy to take off your phone

a nice size
Cons
the material is not resistant and it breaks if you force it

it does not remain fixed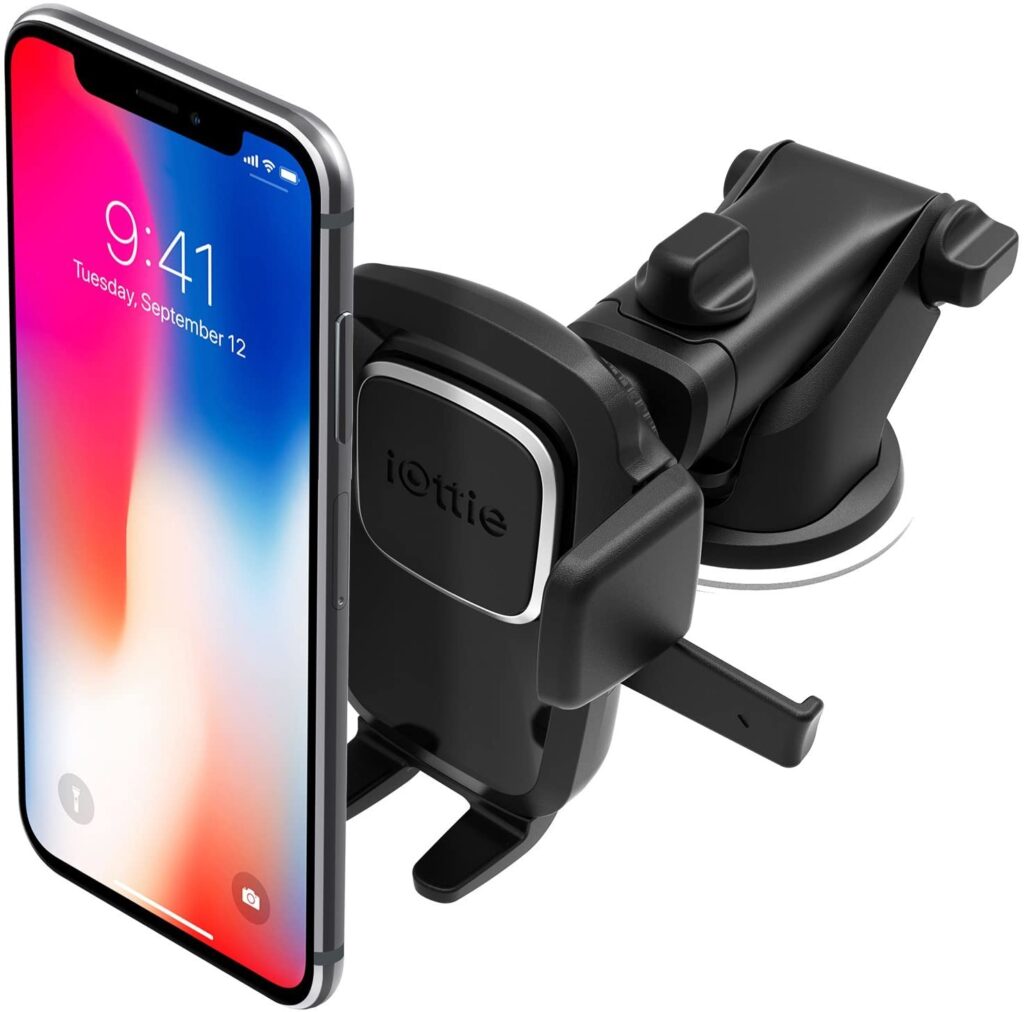 This device offers an easy mechanism for inserting and taking off the mobile phone by moving and adjusting two hands that hold the device. It is a universal mount as it is adaptable for all kind and models of mobile phones that measure from 2.3 Inches to 3.5 Inches. It has a foot on the bottom to be adjusted side to side, up and down. It is small and has an innovative design which makes its usage not only comfortable but also esthetically positive. Its suction cup is reusable. It can be set up in different ways. This new model has a magnet in the bottom to make the device holding more secure. However, sometimes when the mount is not fixed on a perfectly clean surface it can slip off. Its flexibility is of 225-degrees only.
Pros
design

easy to fix

easy to insert and take off the mobile phone
Cons
does not remain fastened if there is minimal dirt on the surface

blocks the view if not ubicated well because of no 360-degree rotation
This car mount has a 2 pack dashboard magnetic holders. It is compatible not only with mobile phones but also with tablets. Its dimensions are 3 x 2 x 2 inches. The magnetic holder fits the back of any mobile phone and provides high security while holding the device. Its surface is smooth so it can adjust perfectly and be stable during the drive. The force of the magnets is very big to hold any type of phone. When the mobile is adjusted to this car mount it provides complete security that it will remain in the position you have installed it. Vibrations and impacts are not a threat to WizGear magnetic phone car holders. 
Pros
easy installation

resistant to temperature

strong magnetic holders
Cons
there is no mention of how much weight this phone holder can carry

the adjustable ring lasts around a year only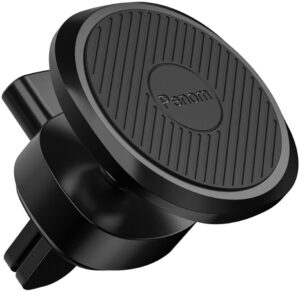 This universal magnetic car phone mount is compatible with nearly all models of smartphones. It is a renewed and upgraded version of a Sturdy phone mount. Its magnetic surface offers a fixation of smartphones directly on the magnetic surface. Its difference with other magnetic car phone holders is that this model offers a 360-degree rotation possibility to ubicate and use your mobile phone under the desired angle and position. An easily manageable set offers a possibility to introduce the device on it in a few seconds. It is easy to install and use. The company offers a free change in case the product does not adapt to the customer's preferences. It is claimed to be safe and secure. Its dimensions are small which makes the task of installing the gadget in the car effortless. This car phone mount is also very light. Its weight is only 80 g. However, the product has a white metal plate. This plate can interfere while charging. It should be removed while charging. 
Pros
easy to use

nice design

comfortable size
Cons
there are no instructions in the box

problems with holding big or heavy smartphones
Users Guide:
Where do you put a phone mount on a car?
On the windshield in most cases. It also depends on the flexibility of the car phone mount. If it is not very flexible the best ubication is the dashboard in order not to block the visibility and distract the driver. The cup holder is the less commonplace, you should look down to see the screen which can be dangerous while driving.
Are magnetic car mounts safe for phones?
Magnets affect mobile phones in different ways, such as messing with digitizers, cause distortion, alter sensors, etc. Nevertheless, most of the magnetic phone mount companies claim that the magnet used in their gadgets is not that big to cause any damage to a smartphone. 
Is it legal to mount the phone on dashboard BC?
There is no rule claiming that it is illegal to fix a car phone holder on the dashboard. However, there is a rule which says that a driver should have complete visibility while driving. The conclusion here can be that if the car phone mount does not block the visibility it can be put there. Meanwhile using a phone holder is more important to give advantage to the driving process than to the esthetics of collocation of the phone mount. 
Can you touch your phone in a holder while driving?
 All the functions including video calling, texting, emailing, social media, web browsing, and photography are prohibited unless parked. It is also illegal to hold and use a mobile phone at any time while driving. The phone can be used only if it can be managed without hands, via Bluetooth. Learners and provisional license holders cannot use this function either.