Jack, the founder of Dr. Squatch began making his own natural soap in his garage after being inspired by a passion for all-natural products. He supposed that there must be other people out there who needed higher-quality goods with natural components and masculine scents.
Traditional mass-market brands have been removing natural components from personal care products for decades in order to reduce manufacturing costs and speed up the process. This is why Jack decided to create Dr. Squatch. The company's objective is to raise the bar for natural goods and revolutionize how men care for themselves.
A lot of companies out there label "natural" on their products; nevertheless, the truth is, many of them aren't even close to being natural.
However, Dr. Squatch uses the ISO 16128 procedure to guarantee that their goods are at least 98 percent natural. The consumers can find the list of every single ingredient used in the products on their website.
The Products
Dr. Squatch mainly offers four types of products:
-Bar Soaps
-Deodorants
-Toothpaste
-Hair Care
All of these products are made of natural ingredients that will make your experience with Dr. Squatch unforgettable.
Dr. Squatch soap is one of the most popular products of the company. It offers 22 types of bar soaps. The variety of Squatch soap products makes it easier for the customer to find the one they need.
Dr Squatch deodorant also comes in a large variety; the costs are higher than the ones of competitors. However, they also offer bundles that allow you to buy 3 or 4 packs of deodorants at a reasonable price.
Dr. Squatch does not have many types of toothpaste. Currently, there are only two types of products available on their website. Still, these toothpaste will become a great addition to your oral care and slightly improve your health.
As for hair care, the company has two types of products: shampoos and conditioners. These products will make your hair look shiny and healthy with only two steps.
Besides the earlier mentioned four types of products, you can also find beard oil, cologne, hand soap, sanitizer, swag, and candles on the website.
Advantages of Dr. Squatch
Advantages
– All the products are made of natural ingredients, free of chemicals, preservatives, and skin irritants
-All skin types may benefit from a variety of soaps with distinctive fragrances
-Customers may use Squatch Quiz to determine which soap types and scents are ideal for them.
-Dr. Squatch provides a Satisfaction Guarantee on all items.
-The company offers 15% off for soap and hair care consumers in the United States
-Both men and women can enjoy the benefits of soaps and hair care products.
Disadvantages
-The costs are higher
-There is a limited number of beard oil, cologne, and candles available.
Best Sellers
Soap Saver $15
One of the best sellers of the company is Soap Savers. Dr. Squatch reviews are usually good, but this product has more than 5000 satisfied reviewers.
Soap Savers are made to extend soap life up to 2 times. This 100% cedarwood block is made to increase the life of your bar and prevent scum from entering your shower.
This gorgeous handmade American-made shower tool has six precisely cut slats to keep your favorite scrubber clean and long-lasting.
Another best seller of the company is Cypress & Citrus Hair Care Kit. These natural Cypress Coast Dr. Squatch shampoo and Cool Citrus conditioner will help you restore your hair's natural beauty.
The shampoo makes you feel closer to your roots; it is packed with a powerful combination of Mother Earth's best ingredients. It includes cypress oil, which has a light, breezy scent that makes you feel like the wind is blowing through your hair.
The natural conditioner, which contains Peppermint, Calendula, and Clary Sage in perfect harmony, gives your hair the healthy radiance it deserves.

It is also a perfect gift set for your favorite person!
This Sandalwood Bourbon Beard Oil is a natural blend of aromatic essential oils that will moisturize and nourish your gorgeous beard.
Sweet frankincense, myrrh, and grapefruit are combined to create a sensual blend that evokes the memories of a summer day spent boating for hours or relaxing on a boat dock with a glass of your favorite beverage.
A well-groomed beard never goes out of style. This earthy scent features a woodsy trio of essential oils: cedarwood, fir needle, hemlock spruce, with a delicate citrus undertone. It smells great still includes only natural products and is very easy to use.
This robust washed burlap fabric bag fits easily in your travel kit and is highly absorbent to dry out the soap between stops. Its compact size makes it easy to take it everywhere you go. You won't need to use hotel soaps anymore.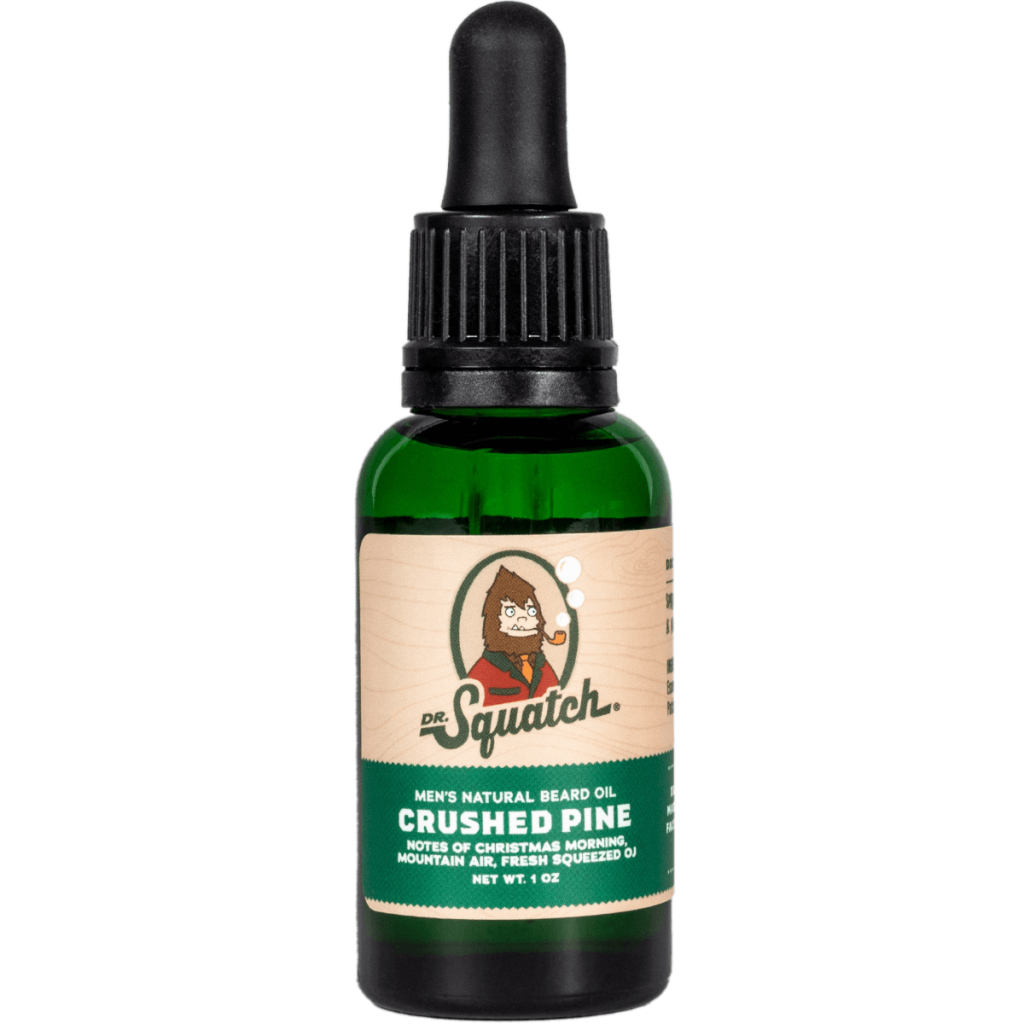 This Beard oil is made of natural essential oils that will hydrate and nourish your magnificent beard.
Soaked in tradition yet brave enough to break away from the pack like a magnificent redwood tree, this earthy combination features three woodsy notes: cedarwood, fir needle, hemlock spruce.
The Sandalwood Bourbon Beard Oil is made of natural, therapeutic-grade oils that will hydrate and nourish your magnificent face buddy.
Enjoy the warm, soothing aromas of myrrh and grapefruit as they bring back memories of a summer spent canoeing for days or relaxing dockside with a tumbler of your favorite drink.
Conclusion
If you're looking for natural beauty products made with ingredients that are safe and free of chemicals, Dr. Squatch is the place to shop! With a wide variety of items in their inventory, there's something for everyone here – whether you want shampoo or beard oil, they've got it all.
Also, don't forget about their best sellers; these seven products have been tried by many. The customers continue loving them just as much as when they were first introduced!
Even after all these years, people still do not know where to buy Dr squatch soap. So, if you want to make a purchase, head over to Dr Squatch website and pick up some goodies you need.