Hair removal is something every person decides on their own. You may be hairless by means of shaving, waxing, and lasering it away, but the process can be challenging for various reasons. Every single type of hair removal has a pack of disadvantages and advantages. For example, Waxing might result in skin damage if you do not perform it correctly. Shaving, while convenient and painless, can cause razor burn, etc.
Still, hair growth waits for no one, and now that summer is here, you might want to put on a mini white dress. Thus, we collected some quick ways to get rid of your hair. No matter what method you use, it'll work best if you start early. So, I've come up with some products that I like the most.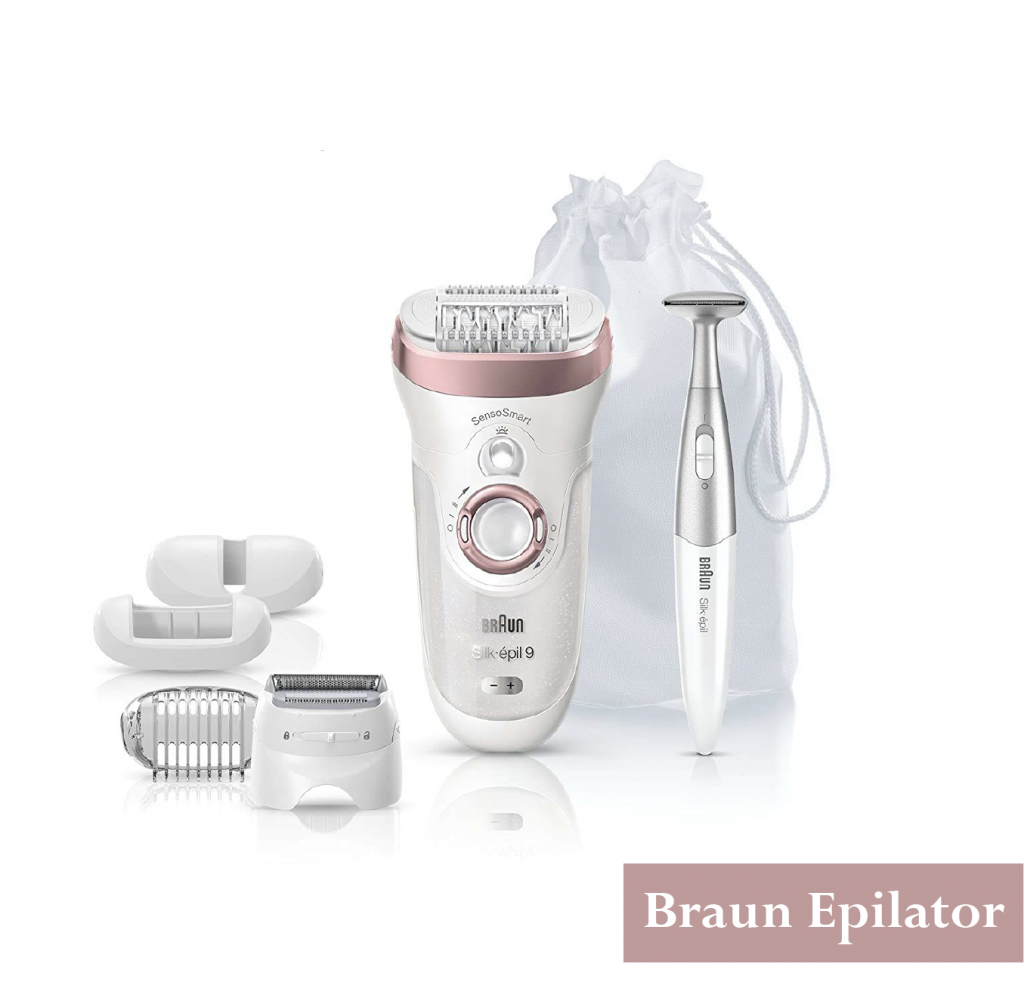 If you are looking for the best hair removal, I suggest investing in the Braun Epilator. The epilator effectively removes hair without discomfort due to steam from showering and is perfect for body hair removal.
The epilator has five necessary features that make it even better and more comfortable to use.
It has a smart light, that shows even the tiniest hairs, and carries extra good hair removal experience.
It has a long-lasting battery that you can use for 50 minutes.
2-speed settings, one for gentle use, and the second one for more efficient epilation.
the device is completely waterproof, meaning you can use it in a shower or bath. Also, this feature makes it very easy to clean.
The device is dermatologically recommended.
What Comes in the Box
The box includes ten products: the device itself, shaver head, trimmer cap, skin contact cap, facial cap, small 3 in 1 trimmer, AA batteries, cleaning brush, a smart plug, and a pouch. These products make the epilator very comfortable to use and allow owners to take them everywhere they want. Additionally, it is essential to note that the epilator's small trimmers, add value to its initial benefit.
How Do You Use an Epilator?
An epilator is similar to Waxing, but you don't use any kind of wax. Instead, the epilator plucks out hair as you run it in different parts of your skin. To get optimal results, remove dead skin cells by exfoliating them before using an epilator.
Exfoliation prevents ingrown hairs and makes your skin smoother. To use an epilator, you should angle it at a 90-degree angle to your skin and then loosely hold the device against your skin. Next, make sure that when you are using the epilator on different areas of your body, you pull the skin taut before moving. Moving the epilator in the opposite direction as the hair, will cut it at skin level but not from the root.
Disadvantages of Epilators
One disadvantage that epilators have is that if you go too fast or yank the device back and forth, you risk breaking the hair rather than pulling it out from the root. Short hairs that break instead of being pulled may become ingrown or infected.
Also, epilators may be painful at the beginning of the process.
''The Nair Brighten and Smooth Leg Mask'' is different than your typical depilatory. Put it on for 10 minutes to remove hair and moisturize the skin without having that bad scent.
The mask smoothly removes hair & stubble while reducing hair regrowth and leaves you with smooth legs for a more extended period.
Advantages of Depliatory
This mask has a lot of benefits to mention. However, what is appreciated is that it is dermatologist tested, minimizing allergic reactions and skin damage. Also, it perfectly moisturizes the skin and lefts it very soft.
The mask is made of Water, Mineral Oil, Calcium Thioglycolate, Cetearyl Alcohol, Kaolin (Clay), Ceteareth-20, Calcium Hydroxide, etc.
Disadvantages of Depilatory
One of the worst factors of this kind of hair removal is that it contains chemicals that can cause irritation and discomfort in some users. It also increases the risk of ingrown hairs and should be used only in less sensitive areas of skin and is not considered a method of facial hair removal.
The single-blade Oui the People Sensitive Skin Razor is perfect for people who prefer shaving. The skin is left feeling like silk, and there's no plastic to dispose of after each use. Plus, the blade will provide a really close shave that, according to my personal experience, led to nearly a week without any new hair growth.
Advantages of Shaving
The most significant advantage of shaving is that it is extremely easy. No practice is needed to do so. No matter where you are, you can take your little "friend" with you and get rid of hair in large areas in a short period.
Disadvantages of Shaving
Even if this razor was perfect for my sensitive skin, still, there is a risk of cuts, irritation, or razor burns. So be cautious. Also, it is not a secret that razors do not remove the roots of the hair, so after shaving, the hair becomes thicker and feels rough. Lastly, razors have never been a method of permanent hair removal.
To Sum Up,
You may be wondering which hair removal method is best for you. The truth is, it depends on your personal preference and lifestyle needs. You should try them all out and see how they work for you! Everyone has different lives, so it might take some experimenting before finding the right product or method. It could be an easy process if you just do a little research online first! Just remember to buy some quality products in advance to last as long as possible without breaking down too quickly.