The global onslaught brought by the coronavirus resulted in an increasing demand for disinfecting products in accordance with everyday safety.
The Center for Disease Control has stated that the use of sanitizing products are a solid way that Americans can prevent the spreading of multiple strains of the flu virus (including COVID-19), and other sicknesses along with some diseases.
Alcohol (70%), Hand Sanitizer Dispenser and Hand Sanitizer Wipes are just a few of the many disinfecting products that can be used to kill bacteria to effectively decrease the spread of diseases.
8 Best Hand Sanitizer Dispensers and Wipes Reviewed
1. Purell TFX Touch-Free Automatic Foam Hand Sanitizer Dispenser, 1200 mL
Purell is the leading hand sanitizer brand most used by hospitals and proven to kill 99.99 percent of most common bacteria and viruses that may cause illness.
Purell TFX touch-free system has a sensor that detects when someone places their hands under the system, and it automatically squirts the necessary amount of product into the palm of their hands.
This motion-activated, touch-free dispenser is ideal for hospital settings, workplaces, even at homes for on-the-go sanitizing.
Skin-friendly formulation. Free of preservatives and other irritants. USDA Certified Biobased with 93 percent Biobased content. It reloads in just seconds and can be used once more, or wait on standby for the next person to use.
The TFX Touch-Free wall-mounted dispenser is designed to contain large refills for zero mess and clutter. ADA compliant to help industries in compliance with federal law.
Pros:
Proven effective hand sanitizer.
Easy touch-free feature
Hassle-free wall mounting
Lasts for up to 3-4 years
Cons:
The dispenser doesn't include batteries, wall and floor protector tray, and other tools
It can be a bit pricey as expected
Color: Dove Grey
2. Purell LTX-7 Touch-Free Hand Sanitizer Dispenser, 1200 mL
Equipped with a clear window on the dispenser's front and a skylight on its top to monitor the fill level. Touch-free LTX-7 hand sanitizer dispenser effectively decreases the risk of contamination by removing a shared touch surface.
The updated technology in the Hygiene Series ensures batteries last longer in most installations. Purell LTX-7 dispenser efficiently controls portions dispensed to help reduce excess and locks for security. ADA compliant to help industries in compliance with federal law.
Pros:
Easy touch-free feature
Controlled dispensed portions for reduced mess and excess
Motion-sensor technology
Cons:
The dispenser doesn't include batteries, wall and floor protector tray, and other tools
It can be a bit pricey as expected
Color: Dove Grey and Chrome/Black
3. Best Sanitizers Inc. EZ Step Hand Sanitizer, 3785 m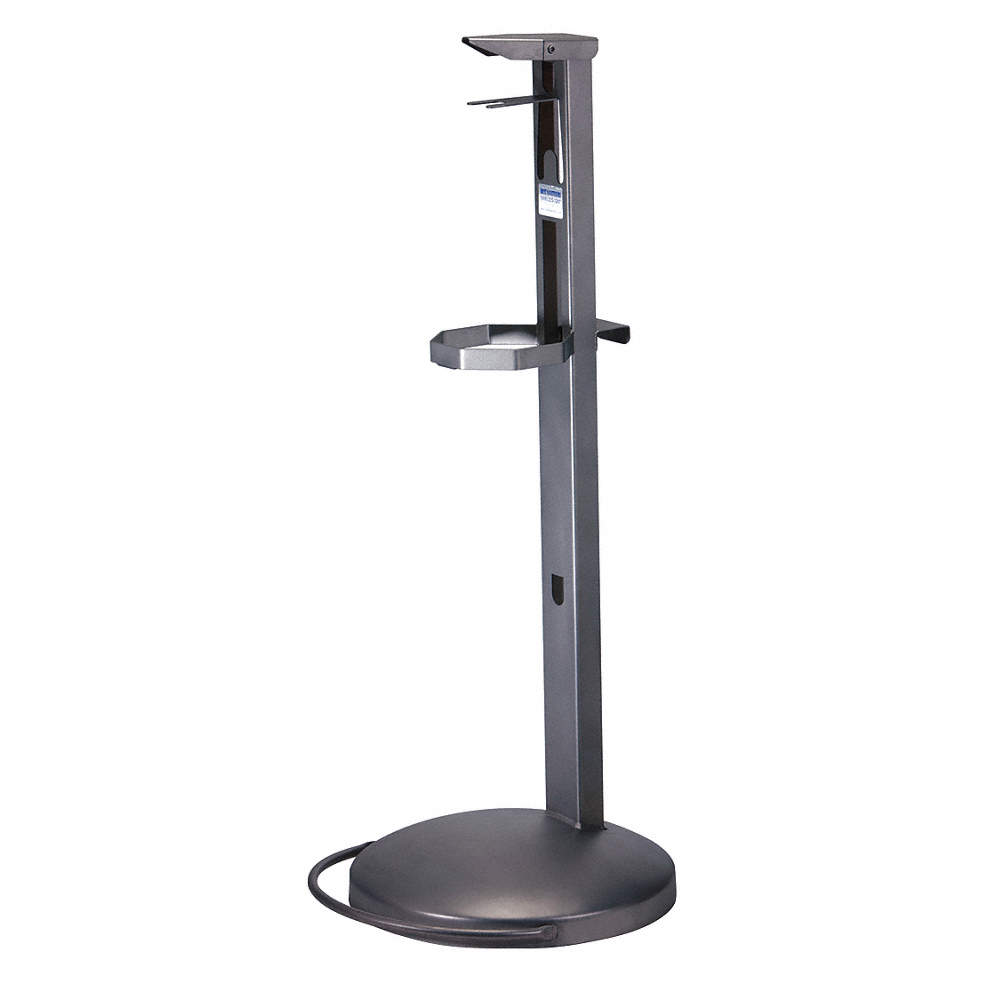 Best Sanitizers Inc. is a U.S.- based company that manufactures innovative alcohol-based hand and surface sanitizers. Other products include soaps, wiping products, and several dispenser options.
The EZ Step Hand Sanitizer has a simple foot-activation that helps to prevent cross-contamination in the area.
Designed to meet HACCP guidelines, US-made, durable, with stainless steel construction.
Ideal for wet or dry environments where disinfecting is highly required such as the food processing industry.
Uses Alpet E3 Plus hand sanitizer. The solid stainless design has an open channel for a seamless washdown. Rated D2 for an alcohol/quat-based surface sanitizer, and rated E3 for an alcohol-based hand sanitizer.
Best Sanitizers has a wide array of sanitizing products that help in disinfecting and sanitizing areas in large industries.
Pros:
This hand sanitizer dispenser stand is perfect for large-scale business industries and hospitals
Holds 2 gallons of industrial-sized E3 Plus hand sanitizer for continuous sanitizing
Cons
The dispenser is quite heavy, needs moving around in select places where hand disinfection and sanitizing is needed at all times
Costs much than the usual hand sanitizer dispensers
Material: Stainless steel
4. Deb Stoko Cleanse Ultra 2 Liter Mountable Dispense
The Deb Stoko USA product line is the most comprehensive and comprised of quality products and internationally known leading brands, Deb Stoko Cleanse Ultra 2 Liter Mountable Dispense being one of them.
This dispenser is designed to be used with Deb Stoko Cleanse Ultra 2 liter bottles. Coated with a BioCote™ protection, guaranteeing it for life. It also includes an illustrated demonstration of proper soap usage for best handwashing practices.
This dispenser a special key for maximum security. Innovative low energy infrared sensing technology that enhances battery life by up to two times providing up to 5 years of operation in normal usage.
Deb's free-standing chrome stand can be used on walls in hallways, corridors, and washrooms.
Pros:
Ideal for large-scale business industries and hospitals
Versatile
With an integrated catch tray to avoid spills
Cons:
The dispenser is exclusive only to Deb Stoko Cleanse Ultra 2L
Doesn't include other items required for wall mounting
Color: White
5. Purell Hand Sanitizing Wipes, 20 pcs./6 pack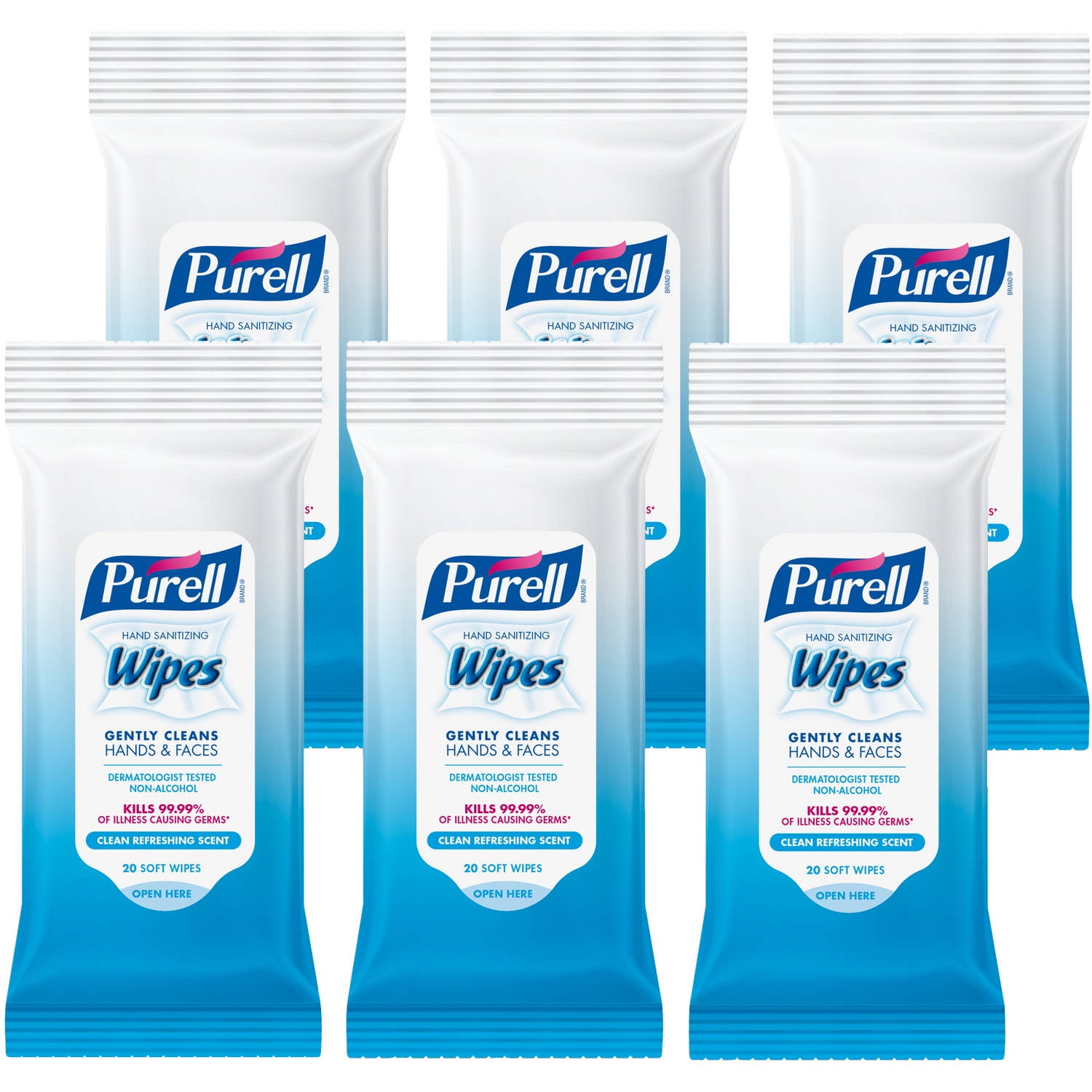 Each Purell Hand Sanitizing Wipe has soft-textured, durable pre-moistened wipes to gently clean up the face and hands.
The 20 pieces travel pack is ideal to carry just about anywhere making it convenient to take with you all day every day. Formulated to be gentle and safe on the skin.
Perfect for travelers and hospital patients. Sanitizing wipes in resealable packs. Multi-purpose sanitizing wipes ideal for cleaning and disinfecting surface areas. Non-sticky feel on the skin and has a fresh, clean scent as you disinfect and free of harsh chemicals.
These sanitizing wipes are handy and quite efficient in situations where regular sanitizing is needed.
Pros:
Ideal for personal use to sanitize hands and face
Also perfect for disinfecting other surface areas
Convenient
Cons:
Seal tends to wear out over time
Not intended for heavy-duty sanitizing and disinfecting
6. MedPride Sterile Alcohol 70% Alcohol Prep Pads
MedPride Alcohol Prep Pads help prevent bacterial infections for medical exams and other medical purposes with 70% alcohol in 100% woven cotton per piece.
Sterile alcohol prep pads in packs of 100 and packs of 200, each individually-wrapped pad has a soft, highly absorbent 2-ply construction that works well for any type of skin.
Great for home, travel, and other places where you need disinfecting and sanitizing, safe and gentle to use.
It can be used in both professional settings like medical facilities, hospitals, hospice care, hospitals or make an important go-to addition to any household's first aid kit.
Pros:
Ideal for personal use to sanitize hands and other places/items for disinfecting purposes
Perfect for diabetic individuals for the sterilization of needles prior to insulin injection
Cons:
Strong alcohol scent.
Wipes are a little dry.
Some wipes fall apart when pulled out of the packaging.
7. GEVO Alcohol Detergent Wipes 75%,6-pack/60 pcs
Safe to use alcohol detergent wipes are made of soft cotton. Includes 60 wipes/pulls per pack.
Each wipe is saturated with 75% alcohol for easy sanitizing/disinfecting and acts as an antiseptic for preparation of the skin before injection.
These are large multipurpose wipes you can use any time, anywhere. Soft packaging with a flip-top lid helps keep wipes moist and fresh for every use.
Pros:
Ideal for personal use to sanitize hands and other surface areas
Convenient to use
Cons:
Strong alcohol scent
Thin plastic lid on top tends to lose adhesive over time
Dries quite fast
8. YBWM Disposable Individually Wrapped Alcohol Cleaning Wipes, 100 pcs
Individually wrapped YBWM wipes are sealed to keep it protected from light and loss of moisture. Easy to use and carry, with each pack of these detergent wipes contains 120 pulls.
Saturated with 75% alcohol for strong sanitizing and disinfecting purposes. Safe and effective. Skin-friendly, ideal for all skin types.
These wipes are also great for homes, workplaces, and other surface areas that need cleaning and disinfecting. Kills 99.9 percent of germs that cause infections and other illnesses.
Pros:
Great for personal use to sanitize hands
Can be effectively used for disinfecting purposes
Cons:
Strong alcohol scent
Thin packaging that tends to tear when not handled properly
How To Choose Hand Sanitizer Dispensers and Wipes
Choosing a hand sanitizer dispenser and hand sanitizer wipes provide an excellent method and effective means that disinfects each and every time promotes better health for everyone.
Automatic And/Or Manual Dispensers?
Automatic Dispensers?
Washing your hand takes less than a minute but is absolutely essential in order to reduce the likelihood of contracting common illnesses. If your bathroom sink or kitchen counter is cluttered with different objects, you can easily mount such devices on the wall for easy access with double-sided tape.
With an automatic soap dispenser, this is not the case as you wave your hand in front of a sensor and soap comes out.
Manual Hand Sanitizer Dispensers
Manual hand sanitizer dispensers, such as the purell hand sanitizer dispenser, are made up comprise of a very simplistic design. Technically, you will have a container with a nozzle for hand sanitizer storage.
Price, Location, and Impression
For hand sanitizer dispensers, prices vary from $12 to $900, depending on the type. The products reviewed here are some of the most sought-after hand sanitizer dispensers and wipes even before the coronavirus outbreak commenced earlier this year.
Fortunately, these sanitizing and disinfecting products can be ordered online from some of the sellers at Amazon that offer delivery services. Waiting times may take some delay, but rest assured that what you ordered will be delivered.
Conclusion
Hand sanitizers and wipes kill germs for most purposes. Like Purell Hand Sanitizers and Wipes, they are nearly one hundred percent effective, you can use them to remove basic residue on your hands, and be assured of clean hands.
Sanitizers are portable. Outdoor activities do not need a trip to the restroom in order to clean your hands.
With wipes, all you will ever have is the freshness you receive. Even public restrooms will not be bothersome if you carry a supply of, say, Purell Hand Sanitizing wipes with you wherever you go. But remember, apart from sanitizing your hands, don't forget to clean your house to make sure no bacteria or virus can hurt you.