If you've already invested in some skin care products, you've probably heard about hyaluronic acid. It's a common ingredient in creams, serums, sheet masks, etc. That's because this natural substance helps retain water which keeps your skin plump and moisturized throughout the day. In fact, it's so effective, you only need one product that contains it. Which brings us to the question, how do you find the best hyaluronic acid serum? It's tricky to find the right one because it needs to be able to penetrate deep into your skin. Fortunately, that isn't going to be a problem for you because we have already done the work for you:
Reviews of the Top Hyaluronic Acids for Skin in 2020
[lwptoc numeration="none" skipHeadingLevel="h1,h4,h5,h6″]
While we have several products on our list, only one of them can be considered the best hyaluronic acid serum. And that's The Ordinary Hyaluronic Acid 2% + B5. The reason for this is because of the formula used by the company. Hyaluronic acid has a large molecular size which makes it difficult for the skin to absorb when used as a topical. It either needs to be combined with a medium that allows it to penetrate the skin easier or the HA molecules must be micronized. In this serum, the HA molecules come in three different sizes to ensure multi-depth penetration. The lower the molecular weight of the HA, the deeper into your skin it can travel which is what we want. As for the large molecular size of some of the HA in the serum, these serve as a barrier on the surface of your skin, keeping the moisture in and protecting your skin from drying out due to the environment. Aside from HA, this serum includes B5 which is another natural ingredient that promotes surface hydration. What makes people love this product even more is the fact that it's so easy to apply and the effect can be seen immediately. However, it does have a "chemical" smell to it. Also, buyers should take note that the product does not come with a safety seal.
PROS                                                               
micronized HA molecules                                      

contains B5

Multi-depth penetration                         

                                                 
CONS
no safety seal

Smells chemical
As we all know (and probably have experienced), with age comes the natural decline of our skin's smoothness. Part of this is because the amount of HA in our skin goes down as we grow older. As a result, dried-out skin and wrinkles. Fortunately, the SkinCeuticals Correct H.A. Hyaluronic Acid Intensifier can help correct the signs of aging you see when looking in the mirror. In fact, this product's formula was specifically designed to increase the amount of hyaluronic acid in your body by 30% in just four weeks. This serum is made up of other ingredients in addition to hyaluronic acid. It also contains 10% Pro-Xylane which is a patented molecule obtained from beechwood which helps restimulate old skin cells and makes your skin smoother. And then there's Dipotassium Glycyrrhizate which is included to preserve the amount of HA in your skin and reduce flaking. Together, you get the anti-aging serum you've been looking for. You don't need to be afraid of facing makeup mirrors with lights because you'll be sporting that healthy glow.
PROS
Contains other natural ingredients

Paraben- and dye-free

Immediate results
CONS
Expensive

May cause some to break out
If you're looking for a low cost hyaluronic acid serum, then this is the option for you. This hyaluronic acid serum from the L'Oreal Paris Skincare Revitalift Derm Intensives series is the most budget-friendly option on our list that is able to help you achieve glowing skin within a week. This moisturizer contains 1.5% pure hyaluronic acid in water-based formula that instantly relieves dry skin, reducing wrinkles and plumping your skin. The serum is a lightweight gel that is easy to apply and just as easily absorbed by your skin. You can choose to use it as a primer before you put on your makeup for the day. In short, you can easily incorporate this into your morning routine. And you wouldn't feel any side effects if you wish to add it into your nightly skin care routine as well. The serum is dermatologist-tested and can be used by any skin type including sensitive ones. It is paraben-free, mineral oil-free, and fragrance-free. It also doesn't contain any synthetic dyes. 
PROS
Budget-friendly

Can be used as a primer

For all skin types
CONS
Doesn't work combine well with sunscreen

Too sticky for some users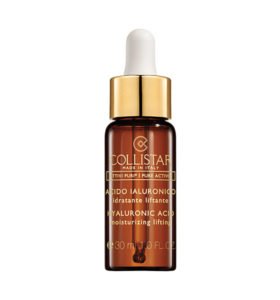 For people with combination skin, it can be difficult to find the right skin care products that won't cause parts of your face to dry out while other parts are breaking out. Fortunately, the Collistar Hyaluronic Acid works perfectly on this skin type. The serum is transparent and has the same consistency as water that makes it easy to apply on your skin. It doesn't leave a residue because it gets absorbed almost instantly. The formula of this product includes two types of hyaluronic acid – sodium hyaluronate and hydrolyzed hyaluronic acid. The hyaluronic acid structure of sodium hyaluronate makes it possible for the molecule to be absorbed deep into your skin while hydrolyzed HA works to smoothen and hydrate the surface level of your skin. In short, the combination of the two ensures that the product works on different levels of your skin to produce the best results. However, there are two reasons why this isn't considered the best hyaluronic acid for skin on our list. First, the product is quite expensive. Second, it is manufactured in Italy which makes it hard to source locally. You'll have to order from Amazon and pay a pricey shipping fee. 
PROS
Easy to apply

Contains both Hydrolized HA and sodium hyaluronate

Good for oily and combination skin types
CONS
Expensive

Manufactured in Italy
The Neutrogena Hydro Boost Hydrating Hyaluronic Acid Serum is another great option. It's affordable and made by a trusted brand. The water-based formula is easy to apply on the skin; it doesn't feel sticky at all. And because it gets absorbed almost instantly, you can wear it under your makeup or sunscreen. You can just as easily incorporate it into your skin care routine at night. The serum is oil-free and non-comedogenic. It works well on dry/flaky skin, oily skin, and combination skin types. Even people with sensitive skin swear by the results. However, this product is not fragrance-free which some consumers might object to. Another drawback is that the pump applicator doesn't dispense enough product to cover your entire face and neck area (don't ever forget the neck!). Though it's not a big deal, it is something to take note of. Other than these two factors, it's safe to say that Neutrogena's HA serum can be your go-to product for more youthful-looking skin.
PROS
Trusted brand

Non-comedogenic

Good for all skin types
CONS
Not fragrance-free

Pump applicator could be improved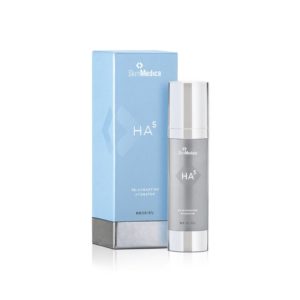 While SkinMedica's HA5 Rejuvenating Hydrator is last on our list, it is by no means the least of all the hyaluronic acid serums we've come across. In fact, it has probably one of the best formulas in the market. And the tag price that certainly reflects it. The formula contains a proprietary mix of 5 different forms of hyaluronic acid to smoothen out your skin and reduce the appearance of fine lines and wrinkles. These 5 ingredients work together to produce immediate results while ensuring your skin remains hydrated all day long. In addition, SkinMedica utilizes VITISENSCE Technology to extract potent antioxidants that will help your body boost the production of its own HA which improves your overall skin health. And this formula works! Your skin really will look more youthful and plump. It's like a super moisturizer that doesn't have any adverse effects on any skin type. However, as we've already mentioned, the price is quite steep. 
PROS
5 different forms of HA

Includes antioxidants

Super moisturizer for all skin types
CONS
Frequently Asked Questions
What is hyaluronic acid?
Hyaluronic acid is a sugar that is naturally produced by your body. It is primarily found in your eyes, connective tissue, and skin. Also known as hyaluronan, this natural substance has a variety of uses. Hyaluronic acid can attract and bind water molecules – as much as 1000 times its weight in water, in fact. For this reason, it functions as an important part of your skin's structure just like collagen and elastin. This substance can also be found in your lips which, along with collagen, is responsible for giving them structure and plumpness. In addition, hyaluronic acid serves as a shock-absorbing cushion and lubricant in your joints, muscles, bones, and cartilage. A high concentration of HA can also be found inside your eyeballs which is why they have a consistency like Jello. Similar to its function in your joints, the HA in your eyes serves as a shock absorber. In addition to that, HA helps transport nutrients to your eyes. 
What does hyaluronic acid do to your skin?
As we've already mentioned, hyaluronic acid can be found in your skin. In fact, nearly 50% of the HA in your body is in your skin. This is because it serves a very important function there; one that helps maintain your skin's layers and structure. Hyaluronic binds water to collagen and this is very important because collagen is what makes your skin firm and supple. When we age, we produce less quality collagen. HA boosts the production of collagen. It also nourishes the collagen you have, making it moist and elastic. When this happens, collagen is able to stretch without breaking, giving your skin the elasticity of youth. Simply put, hyaluronic acid keeps your skin hydrated. And when that happens, your skin looks healthy, full, and glowing.  
What are the side effects of hyaluronic acid?
In general, hyaluronic does not trigger any allergic reactions on your skin when applied topically. It is, after all, a naturally-occuring substance in our body. It's safe for everyone including those with sensitive skin. However, experts do caution consumers against using this substance in dry environments that have low humidity. HA attracts water and when it can't pull any out from the air, it will draw on the moisture deep inside your skin. While it will initially make your skin look smooth and youthful, it will leave your skin drier once the substance evaporates. For this reason, you should only use one product that contains HA and make sure to seal the deal with a moisturizer. 
You should note that hyaluronic is offered in a variety of forms including eye drops, dietary supplements, and injections. Hyaluronic acid injections, in particular, have been shown to have side effects. Some people who receive this treatment may experience pain, itching, redness, swelling, and even bruising. However, these effects may be due more to the injection method than the actual substance. Other side effects listed in the Mayo Clinic include muscle pain, stiffness, and pain in the joints. Just keep in mind that these may be a result of getting the injections to treat knee pain caused by osteoarthritis. Those side effects rarely, if ever, happen with injectable dermal fillers.
Sodium Hyaluronate vs Hydrolyzed Hyaluronic Acid:
There are two versions of hyaluronic acid you'll commonly find in many skin care products – sodium hyaluronate and hydrolyzed hyaluronic acid. Some products only contain one form while others contain both. So, the question then is, which form is actually better? According to the experts (i.e. dermatologists), it's a draw. Each form brings certain benefits to our skin. Hydrolyzed hyaluronic acid, for example, is great for hydrating the surface level of your skin. This is perfect for cold, winter months when the surface of your skin is drier. Sodium hyaluronate, on the other hand, gets absorbed deep into your skin. This allows it to attract and bind water within the layers of your skin, reducing the signs of aging.
Buyer's Guide: Hyaluronic Acid Benefits
Karen L. Goa and Paul Benfield define Hyaluronic acid as a naturally occurring Polysaccharide with distinct physicochemical properties that underlie its application as a viscoelastic tool in ophthalmological surgery. They claim that its anti-inflammatory functions are so high that its application is increasing day by day. Moreover, in other words, it is a material or substance that is produced by our body and is most common in connective, neural and other tissues. Hyaluronic was discovered by a German biochemist Karl Meyer in 1930s and its final formula found in the 50s.
It is difficult to understand what this substance is with definitions that are found, however, one thing is indisputable: Hyaluronic acid has many benefits that are conscious and palpable. It was first used in eye surgery as a hyaloid substitution in 1950. The term Hyaluronic was first introduced in 1986. Nowadays serums of Hyaluronic acid are extremely popular and recommended all over the world. Its benefits are indisputable and evident. Experts develop and produce new combinations of this substance, consumers rely more on it as a natural molecular material. You can find the benefits of Hyaluronic acid hereunder in this article.
Hyaluronic Acid as a Moisturizer
This acid can forestall dehydration of the skin. Hyaluronic acid enters into the molecules of your skin and soaks them and rejuvenates dry particles of the skin. To be less technical it feeds and moistures our skin making it softer and smoother. After its implementation skin looks healthier and younger.
Functions as a Cell Manufacturer
Hyaluronic acid prompts the production of skin cells, that with age become lazier and finally stop their construction. As a result, your possible wrinkles do not appear or become less visible. This substance functions as a skin activator. Its usage is not only esthetic but also psychological: the younger you see yourself in the mirror, the younger your soul feels.
Limits Pigmentation
Melanin is responsible for the skin color. Different reasons can lower the production of melanin which can cause what is known as pigmentation. Cells that produce melanin, with age or health problems can stop producing it. Hyaluronic acid helps the skin with the production of melanin and reduces the possibility of age spots or pigmentation on the skin. Pigmentation appears easier on the face and hands hence the reason, it is appropriate to use Hyaluronic acid in these areas.
Hyaluronic Reaffirms the Skin
The most appealing capacity is its reaffirmation behavior. Many pharmaceutical companies use this substrate in their lifting serums. The advantage of this acid is visible in a short extent of time, which makes it more consumable and applicable. It is advisable to use Hyaluronic acid before the skin loses its firmness and smoothness to forestall infirmity. However, its later use is also beneficial for the skin. Thus, make sure to start applying these serums even after the signs of skin infirmity.
Hyaluronic Acid Used as Filler
This substance is also used as a filler. It can be an alternative replacement of botox. It can fill nasolabial folds, smile lines, forehead lines, etc. Hyaluronic fillers' effect lasts longer than botox and can reach areas that are complicated for other kinds of fillers or botox. Taking into account all these alternatives and before applying them, one should consider all the side effects of both treatments, as well.
It's an Antioxidant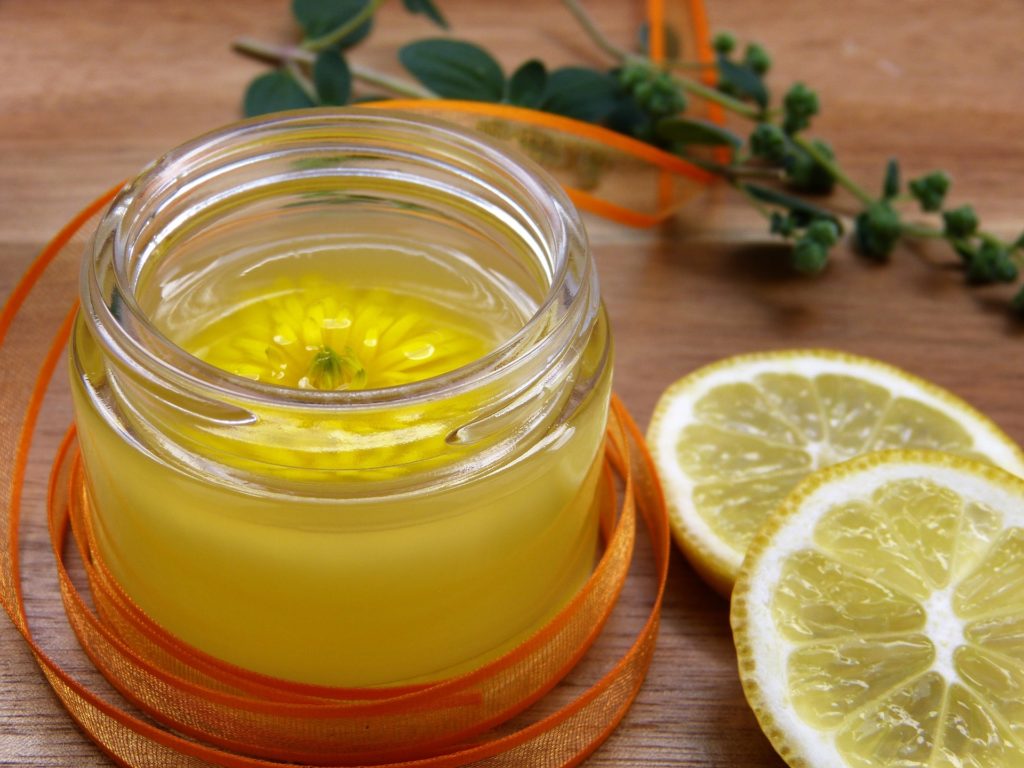 Hyaluronic acid can function as an antioxidant. It offers a reduction in inflammation in the damaged areas of the skin. This substance is recently being actively investigated and tested in mouth wounds, palatal inflammation.
Also Used for the Treatment of Osteoarthritis
Some researchers investigate the benefits of Hyaluronic acid supplements on osteoarthritis. Studies come to the conclusion that patients who took these complements had experimented improvement in pain. The level of inflammation also was reduced noticeably in comparison with those patients who did not take this supplement. It is also said that Hyaluronic acid supplements help strengthen muscles and augment sexual activity. Nonetheless, there are no complete and fully reliable researches done on the issue. Thus, this article will not consider them.