Are you looking to spice up your life without having to get into a relationship? Girlfriend, Netflix is the platform for you. Love is in the air with the best romantic comedies on Netflix. You can feel butterflies in your stomach, the giddy sensation in your curling toes, and the tingles in your heart without actually needing Mr. Right. Because girl, you are enough!
If you've kissed far too many frogs and they haven't morphed into a prince, it is time to channel your attention to romance movies on Netflix. Gather your girlfriends for a night of wholesome fun and relaxation. Slap on your face masks, get some popcorn ready, and prepare to swoon the night away. There's nothing like a movie night with your girls to make you feel young and carefree. So without further ado, try these best romantic comedies on Netflix listed below so you can revel in the glow and magic of true love.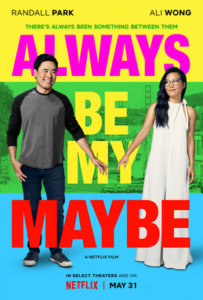 This recently released flick written by Ali Wong, Randall Park, and Michael Golamco falls under the good rom coms on Netflix. The first two writers star in this hilarious romantic comedy as childhood friends named Marcus and Sasha. They have a harmonious relationship that ends badly because of a short-lived fling in their teenage years. After 15 years, Sasha returns to her San Francisco and bumps into Marcus.
From there, sparks begin to fly, but they struggle to establish their relationship because they are in different life stages. Hilarious situations ensue as they try to find their chemistry and rekindle their romance gone awry. You and your friends will certainly love this film because Keanu Reeves makes a cameo appearance. As one of the nicest guys in Hollywood, this hot superstar will make you swoon and fall in love. For him alone, most girls declare that Always Be My Maybe is one of the best romance movies on Netflix.
If you are into movies that evoke guttural laughter, The Ugly Truth is the film for you. It stars Katherine Heigl, who appears in many romantic films like 27 Dresses, and Gerard Butler, a mega action star who appears in London Has Fallen, Gods of Egypt, and the 300. This movie follows the whirlwind romance of a neurotic control-freak television producer and a misogynistic and spontaneous talk show host. The vast difference between their personalities causes tension between the two, which results in arguments and petty bickering.
This hilarious film is full of humor, jokes, and the occasional innuendo. The plot sees TV host Mike on a mission to set up producer Abby with her new-found love interest, Clint. And while he does momentarily succeed in his matchmaking stint, things eventually go awry. Just when you think things are going well, they don't pan out as planned, and that is, in fact, the ugly truth.
This is an American Christmas romantic movie based on the best-selling anthology series of John Green, Maureen Johnson, and Laureen Myracle. You get triple the fun in this movie as it follows three different books with various personas and storylines. The exciting characters with quirky personalities will make you laugh and cry at the same time. Their lives intersect on Christmas Eve in a small, sleepy town in the middle of nowhere because of a snowstorm. As one of the best rom coms on Netflix, you will feel the goosebumps not because it is freezing cold but because all the major characters find their Christmas happy ending.
Keirnan Shipka plays Angie aka, the Duke whose childhood bff, Tobin, played by Mitchell Hope, is secretly in love with her. There's also a passing pop superstar stuck in the town, played by Shameik Moore, who falls in love with a quiet girl next door. Joan Cusak portrays the mysterious Tin Foil woman who ends up advising a hottie to find her self-confidence and value her best friend. With childhood best friends falling in love, to bi-racial romance, right down to queer relationships, this feel-good movie will make you believe in the magic of Christmas even if it is the peak of summer.
Everyone loves a good romantic film where the plot centers around two people from totally different worlds. And that statement can be taken quite literally when referring to the ultimate romantic chick flick, Notting Hill, where both main characters literally live on opposite sides of the globe. However, this love story gives everyone hope that love has the power to bridge the distance. It is a timeless love story that has managed to tickle hearts over the past two decades, making it one of the best romantic comedies on Netflix.
Notting Hill stars the Rom-com King and Queen, Hugh Grant and Julia Roberts. The film lets us into the polar worlds of Hollywood actress Anna Scott and nerdy bookseller William Thacker. While the concept may be a bit far-fetched for some, this movie will surprise you. Not only are the viewers taught that inter-cultural relationships could, in fact, work out, but the film also emphasizes the importance of being true to your heart and that love lasts indefinitely.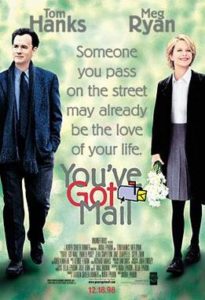 One of the ultimate chick flicks on Netflix that makes you believe in love is You've Got Mail. This is not your typical romantic comedy, and that alone is enough reason to watch it. This well-written film starring Hollywood icons Meg Ryan and Tom Hanks talks about an unconventional love story between business magnate Joe Fox and small-time business owner Kathleen Kelly, both of whom are in the book industry. But that is not all…
While the main characters are corporate rivals, they are also modern-day pen pals sending emails through AOL. This face-to-face rivalry and on-screen friendship blossoms into something more throughout the film. The competitiveness dissipates until all that is left is the beautiful friendship that burgeons into something more. Besides giving us the heebie-jeebies, the film teaches us that love comes at the most unexpected times in the most unexpected ways, and the only way to make the connection is to keep an open line.
Sex and The City 1 (2008) and 2 (2010)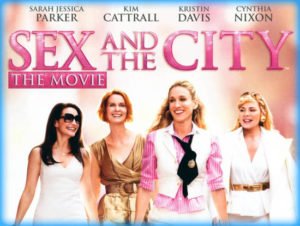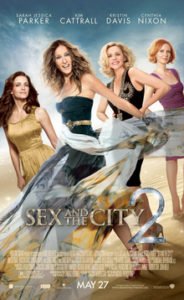 Who does not know the Sex and the City series on HBO? This cultural icon redefined TV viewing with its raunchy stories that tackle the sex life and love escapades of four empowered 40 something women who literally kick ass while wearing fashionable ensembles as they sashay down Manhattan like it is a runway. Who runs the world? Definitely girls! And they do so while wearing sky-high stiletto heels finely crafted by Jimmy Choo, Christian Louboutin, and Manolo Blahnik.
What is better than the series? The films, of course! This is one of the best chick flicks on Netflix that's best enjoyed with your girlfriends. Drool over their designer outfits, gush about their love lives, and get inspired by their powerful careers. Catch the full-length movie, both 1 and 2, and follow the lives of Carrie, Miranda, Samantha, and Charlotte. You will definitely laugh, cry, and feel everything in-between as you watch their lives unfold because hey, one of them could be you. Persevere, gals, and you will soon find your very own Mr. Big.
Drew Barry Moore and Adam Sandler…enough said. This comedic pairing has resulted in three successful and iconic romantic comedies for every decade with The Wedding Singer (1998), 50 First Dates (2004), and Blended (2014). With this fantastic platform, you can catch 50 First Dates that chronicles the life of Henry, an ordinary vet, who falls in love with Lucy.
Theirs would have been a perfect first date that can set the tone for a budding romance that lasts a lifetime. However, there is one caveat: Lucy has short-term memory loss. Unfortunately, she can never remember him and any of their dates. As a result, Henry has to work extra hard, finding creative ways and means to refresh her memory about their romance. You must include this in your favorite list because it is one of the best comedies on Netflix. 
To All the Boys I've Loved Before (2018)
If you want to feel like a young teenager all over again, this teen romance movie starring Lana Condor and Noah Centineo, inspired by the best-selling young adult book of Jenny Han, should be included in your movie night. It revolves around the story of two high school students, socially-awkward Lara Jean and the popular jock Peter Kavinsky.
It follows the lackluster love life of Lara Jean, who, due to not having any romantic encounter, has resorted to writing love letters to all of her five crushes. Unbeknownst to her, the letter gets sent out, which leads to the series of events that cause her and Peter to forge a fake relationship. This movie is sure to make your heart flutter, and it might just get you writing letters to all the boys you've ever loved – but don't do that unless you're ready for the chaos that ensues.
Final Word
A lot of people are suckers for a good romantic comedy. What's not to like in this feel-good genre that makes you believe that love can indeed move mountains. Fess up! You've imagined that a cute movie could be your own life. Watching a rom-com movie on Netflix will want to make you fall madly in love. And there's certainly nothing wrong with that! Remember, you are the writer of your own love story. So, finish the cleaning of your house, settle in, and enjoy the best romantic comedies on Netflix.