Everyone wants to have a great set of pearly whites. But not everyone is lucky to have one. Fortunately for those with dentures, that's no longer an issue. Well, as long as they don't fall out, eh? Thank God for denture adhesives. Of course, not all denture adhesives are made equal. Some are stickier than others. Naturally, you'd want the one that won't make you scared of smiling too big or laughing out loud, lest your teeth pop out. With so many products to choose from, it can be difficult to figure out which product would work best for you. Our list of the best denture adhesives below should help you decide.
Honest Review of The Best Denture Adhesives
[lwptoc numeration="none" numerationSuffix="none" skipHeadingLevel="h1,h4,h5,h6″]
What is the best denture adhesive, you ask? Popular opinion goes to Cushion Grip which has a thermoplastic polymer formula that will ensure your dentures stay on for days on a single application. It's 100% waterproof which means that it won't get washed away or breakdown in water during routine cleaning. The formula is zinc-free and non-toxic. Not only that, it is specially designed to prevent the growth of bacteria-creating biofilm. But what makes this product so different from all other denture adhesives is the fact that it creates a perfect seal. Unlike other products on this list, the Cushion Grip is not a glue or a soft reliner, but it functions like both. You don't get that squishy feeling when you use glue or cream. And it prevents any gaps where food could get in. What it does is it sticks to your dentures and molds itself to your gums. This creates a suction that ensures your comfort while keeping your teeth in place for a long, long time.
PROS:
100% waterproof

stays on for days

zinc-free
CONS:
pricey

takes a bit of trial and error to get it right

Fixodent has been keeping dentures in place since 1935. So, it's really not surprising to find one of their products on our list. The Fixodent Plus Scope Precision Hold & Seal Denture Adhesive has a lot of things going for it. First, it provides a strong hold – it can keep your dentures in place all day long. More importantly, it can be used for both full and partial dentures. In addition, the tube features an ultra-thin tip that makes it easy to apply just the right amount which results in that great sealing effect that you're looking for in the best denture adhesive. What makes this product stand out among its competitors is the addition of Scope ingredients in the formula. Because of this, the denture adhesive is able to freshen your breath every time you put your teeth in. The taste doesn't hurt either. The only drawbacks to this pick are that some consumers have reported their tubes getting clogged at times and a few have commented that it can be difficult to remove the dentures at night. The latter is not necessarily a bad thing compared to having your teeth fall out in public. But it is an inconvenience.
PROS:
Includes Scope mouthwash

Can be used for full and partial dentures

Lasts all-day
CONS
The tube can get clogged at times

Can be difficult to remove

Not zinc free

If you're not a fan of flavor in your denture adhesive, then the Super Poligrip Zinc-Free Denture Cream might be just what you're looking for. Its zinc-free formulation ensures that your pearly whites stay on for quite awhile. More importantly, the cream creates a seal that will prevent food from getting stuck between your gums and your teeth. The new-and-improved ooze-control tip ensures that you only put as much denture adhesive as you need – no more, no less. Plus, this product is less expensive than our first two picks. And in case you're wondering, taking out your dentures at night won't be a problem. Easy to use, easy to take out, and easy to clean. The biggest drawback is that this is not waterproof and has been reported to dissolve when you drink something hot. 
PROS:
zinc free

no flavor

Easy to use and take out
CONS: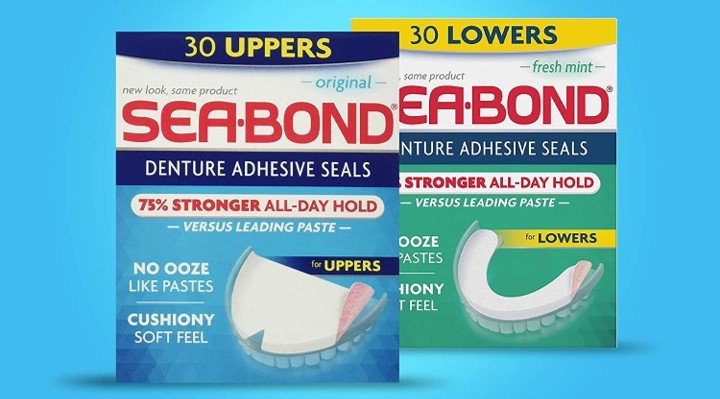 If denture glue is not your thing, then the Sea Bond Secure Denture Adhesive Seals should be right up your alley. Instead of the usual cream, you use a sort of "sticker." The strip is soft and cushiony which prevents sore gums. Since you can trim the seal to fit, you can customize it to best suit your dentures. You can even trim the seals ahead of time, so you only need to apply them when needed. More importantly, the product holds your teeth tight for long hours, up to 10 hours. Taking off the dentures is easy as well. What makes this denture adhesive extra special is that it's mess-free. You don't need to worry about the tube clogging up or using too much cream. There's no ooze. There's also no worry about the seal dissolving during the day. However, there is a huge disadvantage. This particular product is only for upper dentures. If you have lower dentures, you need to get a different box. Unlike cream or paste that you can use on different types of dentures.
PROS:
strong hold

easy to use

comfortable
CONS:
limited use

need to cut to fit

The Secure Denture Adhesive is the last on our list, but it is definitely not the least of all our products. Unlike the other denture creams, this baby is waterproof ensuring that your dentures remain in place for hours and hours, even if you drink hot coffee all day long. It is 100% flavor free which is good news for those who are looking for something that has no taste. Plus, this adhesive is safe for all because it is zinc-free. Like the other products on our list, a little goes a long way. However, there are certain disadvantages to using this product. First, it can be difficult to clean off your dentures. This is one reason why you should not use more than is recommended. Second, it's a lot more expensive compared to the other denture glue products we've reviewed. That being said, you won't need to use this product more than once a day. So, we'd declare that a win.
PROS:
Waterproof

zero taste

very strong hold
CONS:
hard to clean off

a bit more costly
Users Guide
What are denture adhesives?
Denture adhesives are products that "glue" your dentures to your gums. There are several reasons for this. First, the adhesive keeps your dentures secure, preventing it from moving around and causing your gums to get irritated or from the teeth from popping out. Second, it creates a better fit by filling out any gaps between your gums and your dentures. Moreover, it creates a seal that prevents bits and pieces of food from getting stuck between your dentures and your gums.
What is the best way to keep dentures in place?
The best way to keep your dentures in place is to use adhesives. But there are other things you can do to ensure that your teeth don't fall out unexpectedly. You can avoid eating food that's sticky such as chewing gum since this can cause your dentures to move around and even fall out. You also need to make sure to keep your dentures moist. Part of your denture is made of flexible polymer materials in order to make it easy to put into position and create a comfortable seal. However, when it dries out, the material becomes too brittle, preventing you from creating that perfect fit. This is why dentists remind you that your dentures need to be soaked in water or a special solution when not in use.
Should dentures stay in without adhesive?
Generally, you don't need to use denture adhesive to keep your teeth in place if your dentures were properly fitted. However, the structures inside your mouth will change in shape over time which means that your dentures will not always have that perfect fit. Experts do recommend that you consult with your dentist first about the fit of your dentures before using adhesive to fix the problem. Of course, even with proper-fitting dentures, you might feel more confident if you had something extra to secure your teeth in place. In this case, you can choose to use some denture cream or the like to get peace of mind.
How to use denture adhesives?
There are three different types of denture adhesives in the market – denture cream, powder, and strips. When you're using denture cream, you need to apply a small amount on your dentures before putting it on and holding it in place for several seconds to ensure that the "glue" sticks. If any of the product oozes out after you secure your dentures, then you used too much. Make sure that your dentures are completely dry before putting the cream, otherwise, it won't stick.
If you're using adhesive powder, the process is similar. Wet your denture with warm water before applying a light layer of powder on it. Make sure to shake off any loose powder before putting it on and holding it in place. Adhesive strips, on the other hand, are a bit different. Peel off the strip before placing it on your dentures. Then, sprinkle it with a bit of water to make the strip stick to your dentures. Put it in position and bite down to get it securely in place. 
How do I remove denture adhesive from my gums?
To get rid of residual adhesive on your gums, you need to swish warm water or mouthwash in your mouth to loosen the product. Spit out the water and get a soft toothbrush and your normal toothpaste to brush your gums. Do this in a circular motion. You can also get rid of denture adhesive by brushing your gums with a mouthwash that is diluted with water. Dip your toothbrush in the solution and brush your gums and tongue to loosen the adhesive. Use warm water to rinse out any product remaining in your mouth.
What to look for in denture adhesives?
Finding the best denture adhesives can be quite trying. There are plenty of products to choose from, but not all of them will provide you with the secure fit you're looking for. If none of our recommendations work for you, then you can use the following factors to find the right product that suits you. 
Ingredients – some products contain zinc which has been known to cause nerve damage when you are exposed to a large amount. For this reason, you might want to find something that is zinc-free. You can also check to see if the product contains flavor which you might be allergic to or rather would not taste in your mouth all day long.
Cost – a higher price does not equate to a higher quality. That being said, you don't need to buy the cheapest alternative either. Make sure that you get a product that comes with good reviews but still fits your current budget.
Type – there are three types of adhesives and how they are applied differently. You might want to consider your daily routine (both day and night) to see which type of adhesive will be easy to incorporate into your schedule.
What is the strongest denture adhesive on the market?
The strongest denture glue in the market today is Cushion Grip. It's 100% waterproof and can be used to keep your pearly whites in place for longer than 12 hours – which is the usual for most other products in the market. 
What is the best adhesive for lower dentures?
Normally, we'd recommend that you use the same product on your lower dentures because it's just convenient and cost-effective. That being said, if you prefer to use adhesive strips for your lowers, then the best option is the Sea Bond Secure Denture Adhesive Seals that is specifically designed for lowers. Not only is it mess-free, it's very comfortable too.