The United States is one of the most culturally diverse countries in the world. As different as Americans appear, the health problems some of them face from ASD to Cancercan be quite similar. 
Trends in health care tend to be continuous across the population, so it's important to pay close attention when one becomes prevalent. 
This article will tackle the health issues that last for a long period of time, and typically cannot be cured entirely. So here are the top 10 health issues in America for the last decade.
1) Diseases of the Heart
Age group: Heart attack, stroke, or developing coronary heart disease is much more likely in adults age 65 and older than younger people. Heart disease is also reported to be the major cause of disability which can limit daily activities in older people who suffer from it.
The American Heart Association reports that a good majority of American adults have been suffering to a certain type of heart disease. High blood pressure, or hypertension, can lead to heart failure, heart attack, and stroke.
Death rate: A 2019 update from the American Heart Association indicates that 116.4 million, or about 46% of American adults are reported to have hypertension.
Recovery rate: Adult survival to hospital discharge was estimated at 10.percent, and 8.4 of adults had shown excellent functional status at discharge.
Gender:  Both women and men die every year of heart disease in the United States. 
2) Cancer
Age group: Cancer can happen at any age. In people age 20 below, bone cancer is most frequently diagnosed with more than one-fourth of cases in this age group. In children and preteens, leukemia is diagnosed at about 10 percent under 20 years of age. Only 1 percent of cancer overall is diagnosed in that age bracket. 
Advancing age is the topmost risk factor for cancer in general, and for many various types of this illness. According to the most recent statistical data from NCI's Surveillance, Epidemiology, and End Results program, the common age of a cancer diagnosis is 66 years, which means that half of the cancer diagnoses happen in people below 66, and a half in people age 66 and older.
Death rate: A collected statistical research indicates that in 2018, approximately more than 1.6 million new cases of cancer will be diagnosed in Americans. About more than 600,000 will die from the diagnosed disease.
Recovery rate: A 2018 report shows that more than 20 million Americans with a history of cancer got past the illness. People who were diagnosed years ago and have no recurrences and people who were diagnosed recently and are still undergoing treatment.
Gender: The total of cancer diagnoses (new cases) is approximately 355.98 per 100,000 women and men every year.
3) Stroke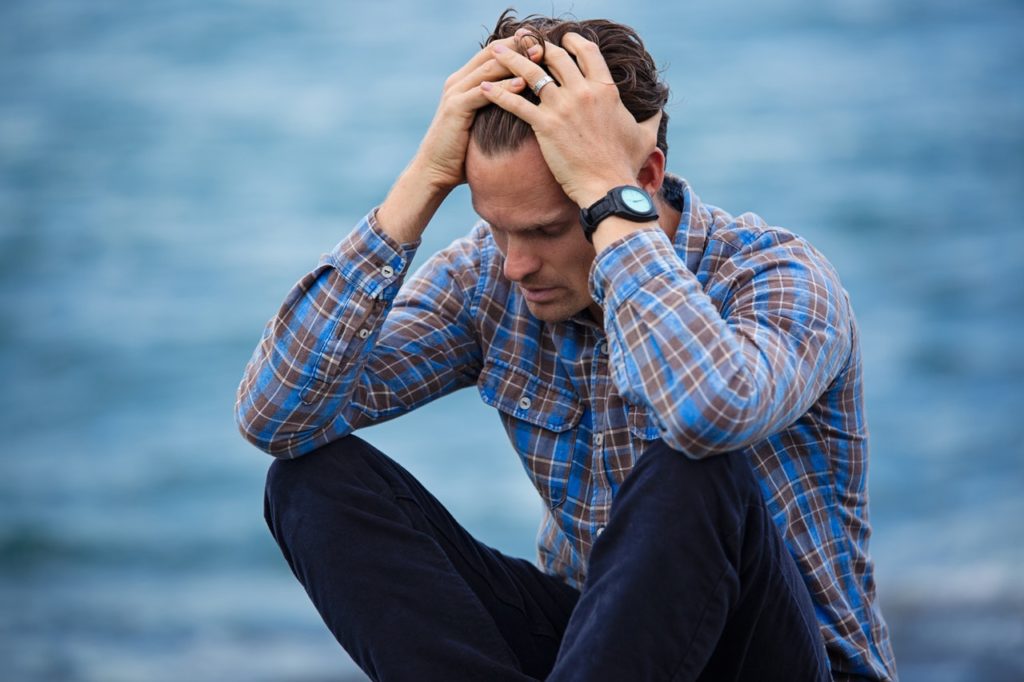 Age group: Close to three-quarters of all strokes happen in individuals age 65 and older. The risk of having a stroke is twice its occurrence each decade at 55 and older. However, strokes can and do happen at any age, which is one-fourth in people below the age of 65.  
Death rate: It was estimated that more than 100,000 stroke deaths each year in the United States. Approximately 700,000 individuals suffered a stroke, of which about 600,000 of these were first attacks, and recurrent attacks were more than 150,000.
Recovery rate: A study found that individuals who suffered multiple strokes had a higher mortality rate than those who experienced other health issues, like cardiovascular disease.
Gender: No significant differences were found in types of stroke, its severity, and case fatality rates between genders.
4) Chronic Respiratory Diseases
Age group: Approximately more than 6 million Americans were diagnosed with chronic bronchitis and about 65 percent of cases involved individuals aged 45 and older. Women are mostly diagnosed with chronic bronchitis at almost twice the rate of men.
Death rate: Mortality rate decreased at about 0.7% for chronic lower respiratory diseases in 2018.
Recovery rate: The 5-year survival rate (about 16 percent) is lower than many other leading cancer types. The 5-year survival rate for lung cancer is approximately 48 percent for cases detected when the disease is still within the lungs.
Gender: It was reported that more than 5 million American women than men were estimated to live with COPD.
5) Alzheimer's Disease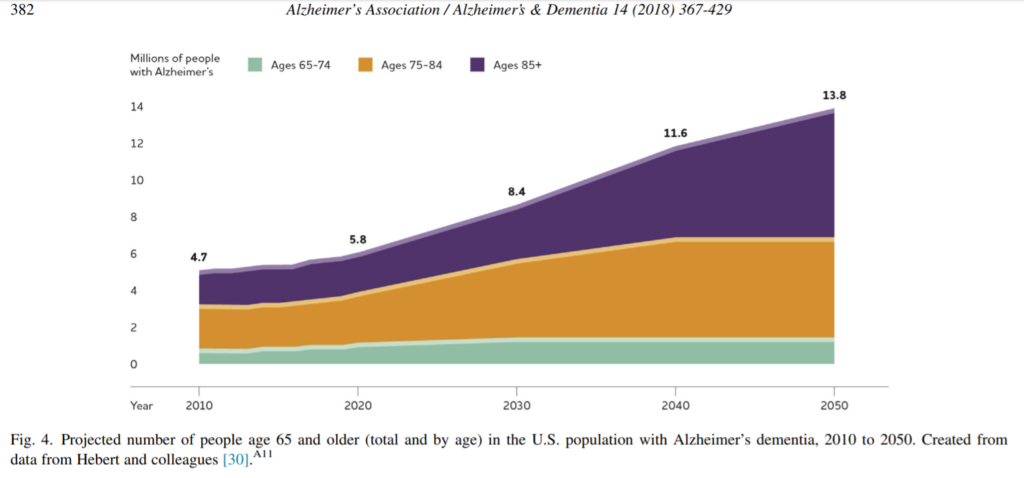 Age group: It was estimated that 5.5 million of American people of all ages have Alzheimer's disease. Around 4.9 million are 65 and older, and 200,000 of younger individuals are diagnosed with early-onset Alzheimer's disease.
Death rate: Around 58 percent of those with Alzheimer's in older people age 70 are expected to die before they reach 80 than with around 76 percent of people without Alzheimer's, which is twice as high.
Recovery rate: Survival among Americans diagnosed with Alzheimer's dementia in people aged 65 live an average of 4 to 8 years. Yet some live as long twice the years with this disease.
Gender: Alzheimer's is prevalent in women than in men, and this cannot be pointed out to their higher longevity compared to men.
6) Diabetes
Age group: Almost 10 percent of  Americans have type 1 diabetes, whereas Type 2 diabetes is the most well known type. That makes for approximately 90 percent of all diabetes cases, age 18 and older.
Death rate: It was reported that more Americans die from diabetes every year as its underlying cause than from breast cancer and AIDS. Approximately around 700,000 deaths.
Recovery rate: Only maintenance in diabetes is found to be more effective, thus managing quality life through the prevention of symptoms and complications.
Gender: More than half of diabetes cases are among adults aged between 40 to 64 years. The numbers are about equal for men and women. 
7) Spinal Cord Injuries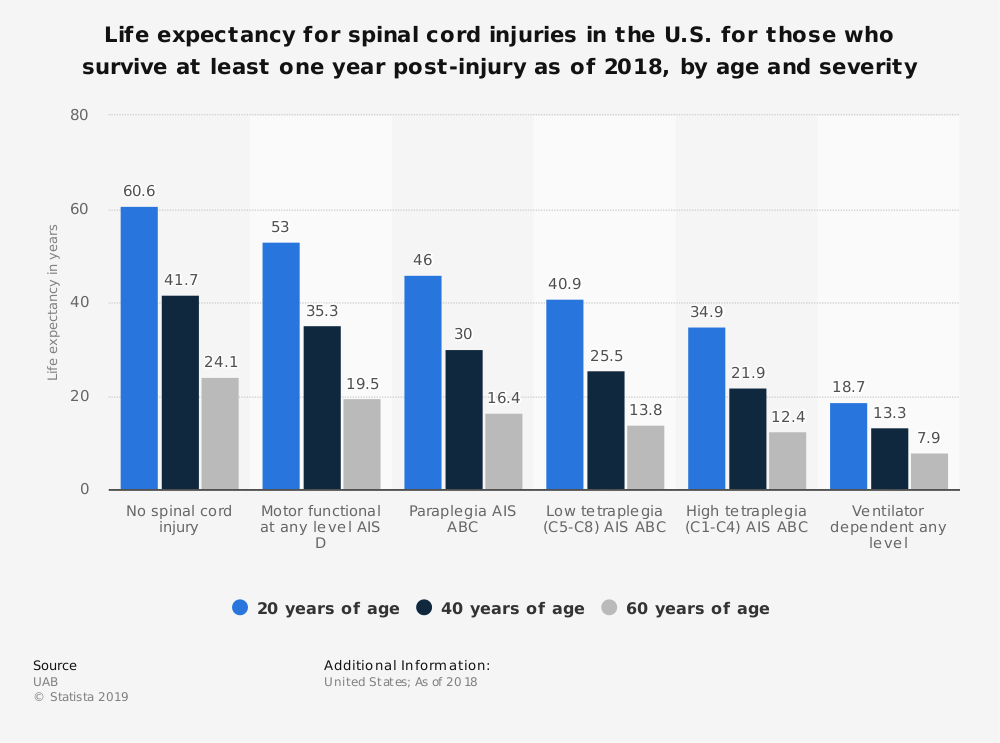 Age group: The age of individuals with spinal cord injury went significantly greater than it was in the 1970s, from 29 years to 43 years as of late.
Death rate: A recent data indicated that the yearly death statistics of spinal cord injury is approximately 54 cases per 1 million individuals in the U.S, or about 17,000 new cases of spinal cord injuries annually.
Recovery rate: The level with which the spinal injury happens depends entirely on the damage — more cells and axons survive in the affected region will result to great chances of recovery.
Gender: About more than 70 percent of spinal cord injury patients are males.
8) Pneumonia
Age group: Younger children (from birth to age 2) are the most susceptible to pneumonia, second are adults 65 and older, and individuals who have other health problems.
Death rate: An estimate of 50,000 deaths in 1 million of American people who have pneumonia die every year, most of them adults above 65 of age.
Recovery rate: Surviving pneumonia in children increased risk for chronic lung diseases, whereas older ones who survive pneumonia may have difficulties in their ability to exercise, and other factors. 
Gender: A conclusive study indicates that around 60 percent of males suffer from pneumonia than women, only about 35 percent. 
9) Kidney Disease
Age group: American people aged 65 and older (38 percent) are mostly diagnosed with Chronic Kidney Disease than in individuals in the 45–64 age bracket (13percent), or 18–44 years (percent).
Death rate: More than 200 people on dialysis die every day.
Recovery rate: About more than percent of people with CKD on dialysis continue to initiate the treatment to improve outcomes.
Gender: Despite the higher prevalence of CKD in women, Renal Replacement Therapy is mostly initiated by men who are diagnosed with CKD.
10) Sepsis
Age group: Anyone at any age can have sepsis. 
Death rate: the Death rate of about 40 to 60 percent in older people with severe sepsis or septic shock, which can be higher than all age groups.
Recovery rate: Recovery from mild sepsis can be successful.
Gender: 60 percent of females were found to be more susceptible to having sepsis than in males.