The aesthetic bedroom is an essential element of a home. It's easy to deprioritize a bedroom's design because of its private nature. However, your personal space still deserves complete attention, as this is where you spend time relaxing, studying, recharging, and reflecting on the day. If you are lucky enough to have your own bedroom, make the most of it.
Do not concentrate on furniture, lavish decor, or sensational appliances because their prices are usually high. The bedroom is not just a room to sleep in, but it should also be a place where you can get away from the hustle and bustle of daily life. In order to enhance your bedroom without harming your budget, choose good bedroom lights. Lighting is all about your mood and personality.
If you can afford it, add fairy lights or candles to improve the ambiance of the room. If not, go for muted hues that will help you relax and recharge while sleeping.
So, in this blog, we collected some of the top cool gadgets for your bedroom. Enjoy!
This Merece galaxy light projector is perfect for everyone. It will make your ceiling look like the dark sky gleams of Greenland! The shooting stars appear to move slowly, so you can enjoy watching them for hours as they travel across the room. It is a projection of night light and a speaker with colorful flashing lights synchronizing to the music, and you've got five white noise sounds.
This light projector is one of its kind with the ability to play and charge simultaneously, allowing us to listen to our music while falling asleep. It has several modes, and you can easily change the projector's brightness, rotating speed, volume, and lighting.
When you press the "play" button, it starts with a static star picture. Pressing the same button again changes between different brightnesses of stars, and finally pushing it for the third time, your music begins to play. You can also skip directly to music by double-clicking on "play."
The star projector has four auto-off timer settings, which are 0.5-hour, 1 hour, 1.5 hours, and 2 hours long.
A portable speaker can be connected to the projection system, allowing music and colors to change in time with the beat of your tunes. Dim the bedroom lights and set the mood with a music-syncing light display at home during cozy winter holidays. This projector is perfect for your room, as you can adjust the lights to your mood. Besides being a perfect product for your room, it is also an excellent gift for a friend, sibling, and parent.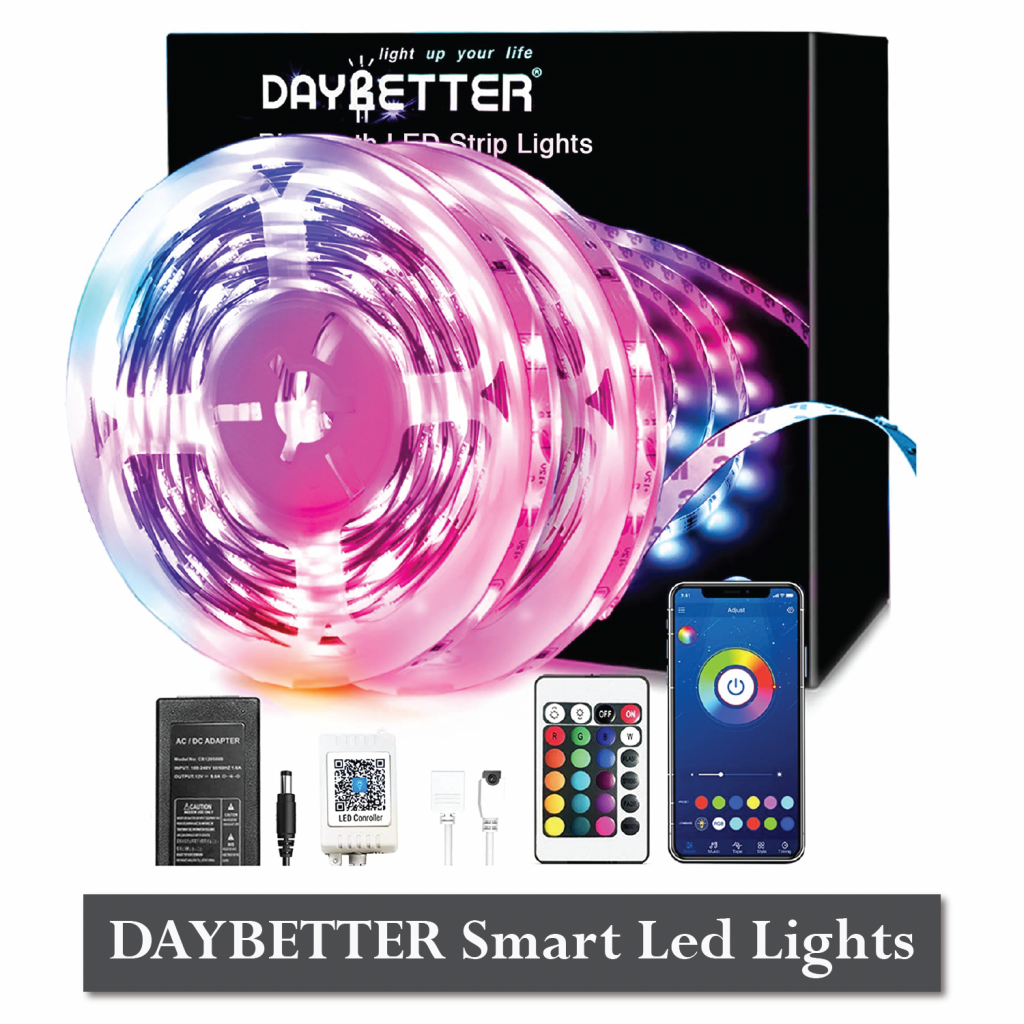 Daybetter Smart Led Lights are perfect for home decoration. They can be used as mood lights, children's night lights, etc. You can control them with your mobile phone, and they come with a remote controller. In addition to controlling the bedroom lights with an app, users can choose from various colors and set lighting effects such as dimmer functionality and dynamic color modes.
You can sync LED light strips with music by connecting them to a speaker and using the built-in high sensitivity microphones. They even react to your voice! You can also set a mode where the colors flicker as though they are changing synchronously from your music playlist, which is excellent for bringing on party effects.
Note: Make sure that you have downloaded an MP3 copy of your playlist onto your devices.
The Daybetter smart bedroom lights are the perfect addition to your bedroom design. They are a stylish contemporary lighting solution to complement your interior.
The Daybetter led lights are simple to use and easy to install, making them ideally suited for newbies in home automation. They're also versatile enough that they can be used in almost any room in your house! With so many color modes available, you can change the look of your room with the tap of a button. You can set your lights to change color according to time, weather forecasts (temperature or precipitation), and you can even have it stay on a specific color throughout the night!
The LED ceiling light is made of good quality aluminum alloy and plastic. The plastic material is fireproof and has high-temperature resistance. It has a splendid appearance, and it can resist corrosion in the long term use. It's suitable for all the rooms in the house, most perfect in the bedroom.
The brightness and color temperature can be adjusted to your liking through remote control. The brightness is 640lm-6400lm, which can be adjusted at any time based on your needs. You also have the option to change the color temperature to between 2800K-7000K at will. This allows you to customize your lighting preferences.
The CRI index represents the degree to which a given light source imitates natural light, 90 for simulated sunlight. No matter day or night, your home reflects the truest colors. LED bedroom lights produce soft light, which reduces the impact of harsh brightness. The acrylic lampshades can soften this effect even further. Compared to incandescent lamps, this LED's service life lasts up to 30,000 hours and saves 70% energy.
These ceiling lights for the bedroom can reduce the time your body requires to adapt to changes in light, preventing headaches and protecting your eyes. LED lights generate virtually no heat; this means that it is safe for kids' rooms – unlike incandescent bulbs which emit 98% of their energy in the form of heat.
To Conclude
What are some of the things you can do to make your bedroom cool? Well, one thing that may not be on everyone's list is lighting. Room lighting plays an important part in creating a space feels comfortable and soothing or bright and exciting. If you're looking for ways to elevate the mood with light, here's what we recommend as good tactics. First off, try adding ambient lamps around your room, so they provide ideal levels of brightness for different activities:
Reading by bedtime.
Lounging at night time before sleep.
Watching TV from bed if desired (although this might distract more than entertain).
Second off, use up-lighting strategically rather than flooding the entire ceiling with overhead bedroom lights because it will create dramatic effects and may cause headaches.