Met Gala is the annual black-tie fundraiser for the Metropolitan Museum of Art's Costume Institute. It is known for bringing together fashion and celebrity culture in a way that few other events can. The invite list includes A-list stars from movies, TV, music, and sports, all of whom dress to impress luxury designer looks with a creative aspect.
Initially, the party was a one-time event to raise money for the Costume Institute, which didn't take place in the Metropolitan Museum.
Publicist and CFDA founder Eleanor Lambert held the first fashion event in 1948.
Until December 1971, the monthly midnight suppers were held at places including the Waldorf Astoria, Central Park, and Rainbow Room.
The Gala's splendor was amplified in the 1970s with the arrival of fashion icon Diana Vreeland, who served as a special consultant to the Costume Institute in 1973, and socialite Pat Buckley—wife of traditional author William F. Buckley—who was appointed chairperson in 1978.
Anna Wintour became chairperson in 1999, bringing with her the influence and resources of Vogue to the Gala. The event was shifted from December to April in 2001, shortly after a Chanel exhibition was canceled in December 2000.
During the past years, Met Gala had a lot of exciting themes. For example, the Met Gala theme in 2018 was "Heavenly Bodies: Fashion and the Catholic Imagination," which provided a unique opportunity to see celebrities step outside of their comfort zone. It also meant that many outfits either included traditional Catholic imagery or took inspiration from it.
This article will analyze the 2021's ceremony and some of the most discussed Met Gala dresses.
Met Gala 2021 Theme
This year, the Met Gala was a more modest affair given the worldwide crisis, with just a third of the usual guest list invited to participate in fashion's most glamorous event.
Even so, the red carpet was jam-packed with primary Americana fashions.
This year's gala theme, "American Independence," provided participants a plethora of options to work with, from powdered wigs and star-spangled gowns to Lady Liberty costumes and, of course, anything red, white, or blue.
Top 4 Most Talked-About Met Gala Looks
Kim Kardashian Met Gala 2021
While the decision behind the Instagram Star Kim Kardashian's gown for the 2021 Met Gala has not been confirmed, there have been some reported claims about her inspiration.
Kim arrived at the event in a Balenciaga outfit that covered her from head to toe—including her whole face.
Sources said Kardashian wanted to create a "new subculture and fashion statement" with her wardrobe and that her ex-husband Kanye West was an inspiration. There is no logo, no face, but everyone recognizes her identity. Through art, Kanye gave her the confidence to explore new frontiers and push creativity and human imagination. It's total self-assurance.
Another rumor about Kim Kardashian's dress states that the reason behind her jaw-dropping choice is the situation In Afghanistan. With the look, she wanted to stress the events going on in that country.
With the dress, she was trying to symbolize the Afghan women.
Rihanna Met Gala 2021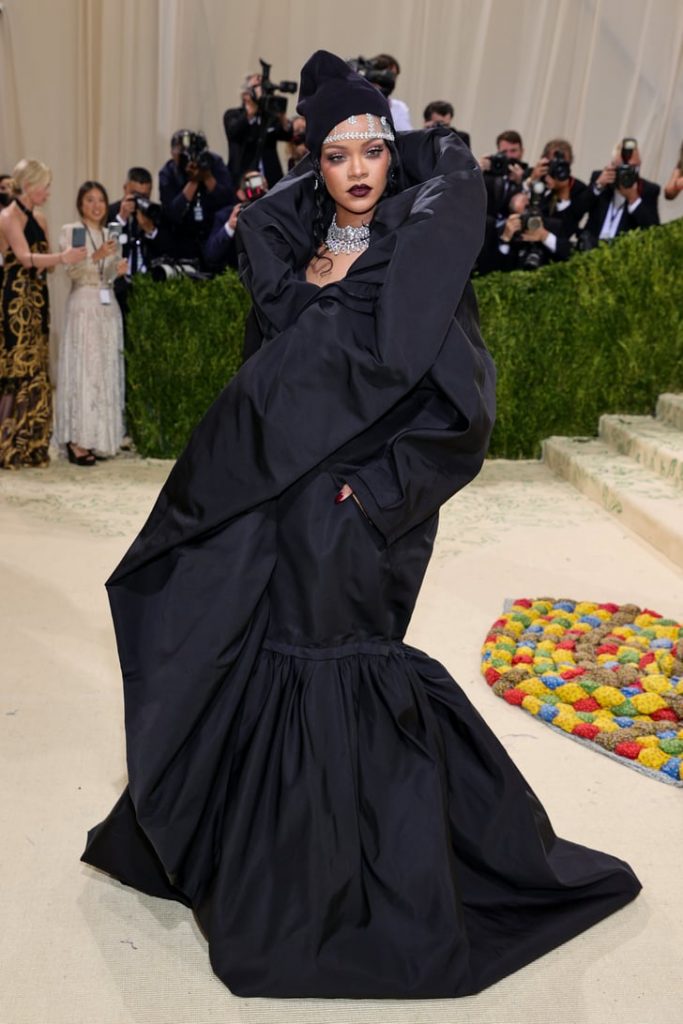 Rihanna's Met Gala looks are always highly anticipated. Se always chooses dresses that will emphasize her personality and style.
Regardless of the fact that she was late this year, her appearance was definitely worth the wait.
RiRi wore a voluminous black cape-gown with dramatic shoulders and a black knit beanie over a layered diamond hairpiece and matching necklace.
She completed the ensemble with her signature heavy eye makeup, black sandals, and lavender nail polish.
Her look included almost 270 carats of Bulgari diamonds.
In 2015, she wore an unforgettable yellow fur-trimmed cape at the Met Gala, and in 2018, she shocked everyone with her Pope-inspired dress and headpiece.
Gigi Hadid Met Gala 2021
Gigi Hadid's Met Gala 2021 red carpet introduced her stunning crimson hair.
In the style of cartoon character Jessica Rabbit, supermodel Gigi Hadid arrived at tonight's event in a Prada strapless, high-slit dress with leather arm gloves.
Her new set of deep crimson locks dyed by colorist Keith Shore also brought to mind cartoon figure Jessica Rabbit.
Esther Langham, a hairdresser for Peacocks, molded Gigi Hadid's ginger tresses into a thick, high-slung ponytail topped off with a Prada logo barrette studded with crystals.
The bright color was further amplified by makeup artist Erin Parsons, who created a set of' 60s-leaning, powder smoky blue eyes with classic cat-eye flicks and fluttery fringe.
Kendall Jenner Met Gala 2021
Givenchy's dedicated custom for Kendall Jenner paid tribute to Audrey Hepburn's most memorable role, Eliza Doolittle in My Fair Lady.
Mary Phillips, the makeup artist, naturally turned to Audrey Hepburn for further inspiration. She added that they wanted to capture ancient aspects of Audrey while still keeping her timeless.
Phillips created a stunning moment with the study. Jenner's lids were smoothed and hydrated via Kylie Skin Face Moisturizer and Eye Cream, which helped him develop a thick wing of black liner on her lids and a tiny one under the lower lash line, creating a kittenish contrast. A little bit of white eye makeup between the two liners was the ideal way to showcase and bring Kendall's alluring eyes into focus.
The juxtaposition of a roseate lip and a slicked, center-parted midi-knot balanced out Jenner and Hepburn.
All in All
Met Gala is held in New York City every year to celebrate opening a fashion exhibit at the Metropolitan Museum of Art. The event is hosted by Vogue magazine's editor Anna Wintour.
Celebrities are invited to attend red carpet events with unique outfits that represent their style or one of the fashion eras showcased on the exhibit.
It is one of the most exciting events. It seems like fans can't stop talking about it even after the event. They want to brag and show their favorite celebrity looks to the public as soon as possible by uploading videos and photos on social media.
Photos and videos of celebrities wearing gorgeous, red carpet outfits flooded the internet after the event.
Some were more notable than others, such as Kim Kardashian's outfit that caused controversy among fans and not only.