Due to consistent growth in awareness around the benefits of having straight teeth, several adults seek to invest in some form of adult braces or dental crowns for straightening teeth for improving their health, wellbeing, and confidence. Doubtless, investing in some form of braces is one of 10 things to do in their 20s. Having misaligned or crooked teeth, or an overbite or underbite, is something that many adults live with because the issues weren't addressed in their youth. With technology and talent, adults can choose between Invisalign, ceramic braces, lingual braces, or the traditional metal braces according to the issue they wish to address while straightening the teeth.
      Traditional Braces
Although traditional metal braces aren't the most aesthetically pleasing teeth straightening option for adults, they are typically recommended if you require extensive treatment. Traditional metal braces have advanced through the years and have only become more comprehensive and practical. Metal braces can treat a variety of problematic misalignments and bite issues. Aside from being very useful, metal braces are also quite affordable, making them an excellent option for anyone running on a tight budget.
Who Is A Good Candidate for Traditional Braces?
Traditional braces or metal braces are the most superlative option for adults looking for a thorough treatment. It works best if you need to fix the midline of your teeth or large gaps. An individual cannot remove tradition braces independently; it has to be worn during the entire course of treatment and can only be removed by the orthodontist. The braces are occasionally tightened to move the teeth.
Ceramic braces are almost homogeneous to traditional braces, but they have transparent or tooth-colored brackets instead of metal ones. Even the wires used for ceramic braces are offered in an off-white shade. Overall, ceramic braces are a much more discreet option for adults. Ceramic braces are less painful and do not hurt the gums and cheeks because the ceramic is not as harsh. This has been verified by people who have worn both metal and ceramic braces,
Who Is A Good Candidate for Ceramic Braces?
Ceramic braces are best for people who prefer a discreet option while choosing braces and want a comprehensive treatment by an orthodontist. Continuous use of ceramic braces can treat crowding and spacing, and even bite issues. Ceramic braces are comparatively expensive but are mostly recommended to adults whose teeth have mostly stopped growing. This ensures a quick correction and a lesser chance of brackets breaking due to tooth movement strain.
      Traditional Clear Aligners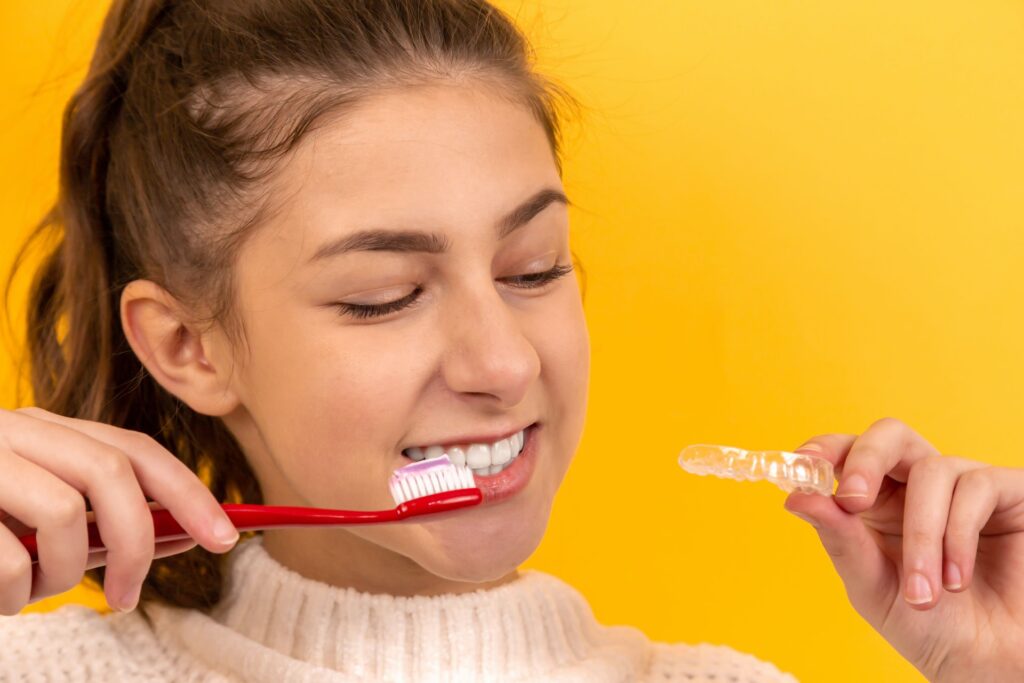 Traditional aligners are preferred treatment options for adults only because they are a discreet and less-visible alternative to conventional braces. Clear aligners are made of a unique plastic material that's customized to fit the teeth. The most popular brands of in-office clear aligners are Invisalign and Clear Correct. Clear aligners are removable, which means it will be easier to properly brush/floss your teeth and maintain good oral hygiene.  Unlike traditional metal braces, these clear aligners are hassle-free and easily be removed during sports, activities, and meals for comfort and accessibility. Whenever adults decide to remove their aligners for such activities, they need to wash their hands using only the best hand sanitizers to maintain good oral hygiene, and then put the aligner back.
Who Is A Good Candidate For In-Office Clear Aligners?
In-office clear aligners are best for people who would like a less visible treatment option and prefer to have treatment monitored by a dental professional. Clear aligners are best for mild-to-moderate cases and for people who can commit to wearing them for the full 22 hours per day.
Lingual braces are the most camouflaged form of braces available. Although they have paired brackets and wires like traditional braces, lingual braces are placed on the back of the teeth instead of the front. Lingual braces are almost invisible and are comparatively expensive.
Who Is A Good Candidate for Lingual Braces?
Lingual braces are best for people who do not want their braces to be visible. Although costly, lingual braces are best recommended for cases of crowding and spacing. The ideal candidates for lingual braces typically have less complicated issues to correct.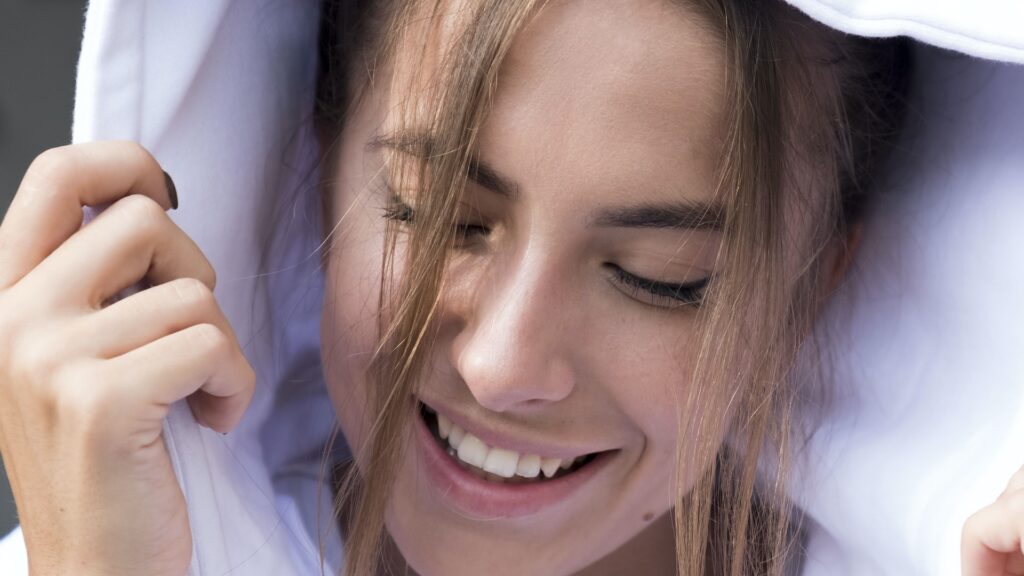 Veneers are known for a complete smile makeover and give you the perfect and classic "Hollywood Smile." These braces are mostly porcelain shells that are carefully placed over the teeth to correct issues like spacing, crowding, and discoloration. The treatment process for veneers is quick, but it requires attention and dedication for its care
Who Is A Good Candidate for Veneers
Veneers are perfect for adults who want perfect looking teeth and a complete smile makeover. Veneers are the most expensive option amongst alternatives available for teeth straightening. Veneers can correct most cases of crowding and spacing.
If you're thinking about improving your smile, discuss teeth straightening options with your dental provider who can help you determine the best treatment to achieve your desired results.
Dental Crowns
Dental crowns are tops that are placed on top of malformed teeth. They cover teeth which have had root canals or restorations placed on them, and they are sometimes used for cosmetic purposes. Teeth may need dental crowns if they have become too weak to be restored with fillings.
Fillings do not always solve the problem, so crowns are used to preserve, cover, and restore the shape of your teeth. Metal, porcelain, resin, and ceramic all serve as materials for dental crowns. They don't need much maintenance other than normal good oral care over time.