Different people have different ways of relaxing, Some prefer watching movies, others – to attend a gym, install productivity apps and train. But there is another way of rest that is always enjoyable. It is fishing. If you want to have a high success rate out on the water, you need the best fishing poles for your trip. Getting the best catch means you can't overlook this factor. The best fishing rod will allow you to place your bait at a precise location that does not spook the fish. This has a significant impact on whether you will grab those bites or not. Of course, you want to get as much as you can! If you use the wrong types of fishing rods, you will be unable to cast as for, and you cannot cast accurately either. With the help of the best fishing rod brands, you can undoubtedly efficiently land your cast on a dime and effectively work that bait the way it is supposed. With all of these working together, you will have loads of catch and lots of fun.
Top recommendations for fishing rods in 2020
Okuma Celilo Lightweight
Penn Spinfisher V500
Ugly Stix GX2
PLUSINNO Fishing Rod and Reel Combos
Daiwa Mini System Minispin
How do you pick a good fishing pole?
Types of Fishing Rods
If you are looking for variety, OKUMA Celilo is excellent as it offers a broad range of lengths from 5'0" to 8'6". This is accompanied by ultralight action. This specific model is finely crafted with graphite. It possesses aluminum oxide line guide inserts and steel reel mounts. Should you desire maximum comfort, this one is amazing as it has a comfy cork grip.
This Okuma is touted for being one of the best fishing rod brands with a great reputation for durability and longevity. It has incredible sensitivity to lure contact, ensuring you get a lot of bites. You won't get tired playing with this rod because it is lightweight and handy. You can bring it along with you for meandering streams and rivers. As its name suggests, this is a great rod to work with if you are into trout fishing because its high sensitivity makes it an ideal tool for closer, structured fishing. No schema found.
Pros
Supremely fast action and high sensitivity that's perfect for trout fishing
Ultralightweight so it is easy to handle and carry around.
Cons
Extra care is needed to avoid breaking the rod because the graphite material feels less sturdy compared to other rods made of composite materials.
Not an ideal rod for casting long ranges as it only works well for casting short distances.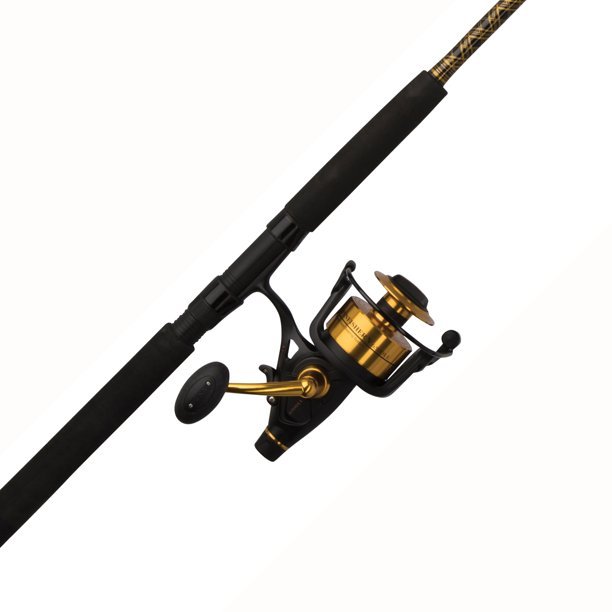 This specific fishing rod and reel model is recognized as one of the best fishing rods for saltwater use. The Penn Spinfisher 6500 model uses an HT-100 Slammer Drag System. It is a fantastic workhorse that's oriented towards jigging. It possesses an oversized bail wire and a big line capacity with ample power to haul an enormous fish from great depths.
It is finely crafted with a full metal body with its main shaft made of stainless steel. Its rotor and side plate are both water-resistant, so it keeps moisture away. The line capacity rings are well-designed, so you can see how much of your line is out and how much is left. It has stainless steel guides and aluminum oxide inserts. You can easily handle this one because of the EVA grips.
Pros
Incredible durability because of premium materials.
Can handle colossal fish without breaking.
It is convenient to see how much of the line is left.
Cons
A few customers complained about water intrusion issues, but Penn has replied that this is a problem for the first models released.
The reel can clunk and bind during the retrieval process.
This rod is anything but ugly! This catchy product name is crafted as a 7-foot ultralight and comes as 2-piece with a foam composite handle. This is made out of fiberglass and graphite composite, making it durable and lightweight. The Ugly Stik manufacturers provide an impressive 7-year warranty, which shows they stand by their products.
The two design makes it a nice backpacking rod, as the small tube carrier is two-piece so it is not a risk for breakage. This is affordable and easy to handle. It works well on long and short distances with a handle design that's also great for casting lighter rules in tighter spaces. Trout fishing enthusiasts commend that this is the cheapest rod out there for their sport, and it is one of the best freshwater fishing rods in the market today. No schema found.
Pros
It combines durability and sensitivity, making it an excellent rod for beginners.
Super affordable price and impressive warranty give real value for money.
For trout fishing beginners, this provides a clear tip guide that offers fantastic line visibility.
Cons
The line guides of this stick cause faster wear when used with an ultralight line and tackle.
Assembling the two pieces takes a bit of a learning curve.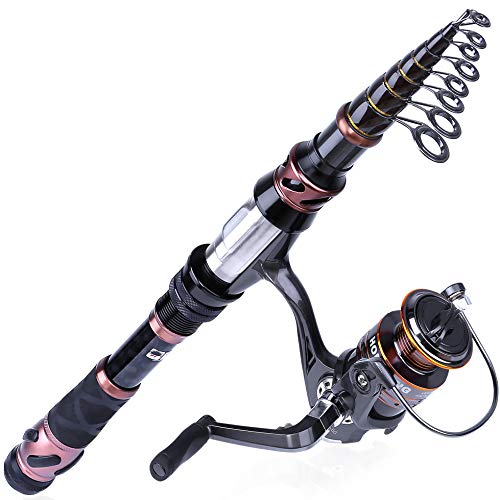 The Plusinno brand is famous for its reputation for making exciting types of fishing poles for various applications with unbeatable prices. Using modern techniques and materials, this manufacturer makes durable and affordable rod and reel combos. This particular model is an excellent choice for newbies. This is the best fishing rods for beginners because you can swiftly control this and quickly learn fishing techniques with this model. If you are also unskilled about what length or weight to use, this comes in handy because it offers versatility.
This rod is a safe bet if you are looking for a great investment as it can be compacted with its collapsible frame and a retractable handle, making it ideal for travel. Made with stainless steel, you are assured that this is safe to use for saltwater fishing. It comes with a comfortable handle for a relaxed grip, along with a nice drive gear, which will help your casting speed and read. This model is available in six sizes ranging from 5.91ft to 10.83ft. No schema found.
Pros
It provides versatility, so greenhorns to experts will enjoy this rod.
Very handy and great for travel.
Cons
Shipping takes a long time and will test your patience.
Handle extension readily fell apart.
This Diawa model has it all in one easy to carry case! The company has been around since 1955, and the longevity of the brand speaks for itself. This purchase is a mini system, so it has got you covered. Since its a Daiwa, you can expect great construction with a manufacturer's guarantee.
This particular model is easy to set up and take apart, making it great for travel. It can even fit inside your luggage. It is smooth and lightweight, so you won't have a hard time using this rod. You can count on this rod for any type of fishing, and it is versatile enough to handle all skill levels. No schema found.
Pros
Very affordable price with great quality.
Easy to put together with great lures and castability.
Cons
Reels tend to get tangled when reeling in a catch.
Some say that there is poor line memory, and the anti-reverse also doesn't work well.
Fisherman's Guide
How do you pick a good fishing pole?
Using the right rod can spell the difference between fun and disaster. While a good fishing pole will not get you the Bassmaster Classic in one go, but it will make your fishing experience more enjoyable. In the same token, the wrong rod will:
Length: Rods range from tiny 4 feet to a high of 14 feet. The length shows how far you can cast. Shorter rods are great for close and tight structures. The shorter body allows less bend and stretch. Longer rods are perfect for those covering more water and casting for deeper baits.
Material: Rods are generally made from graphite, fiberglass, or a combination. They usually affect the weight of your rod, which can make a difference when it comes to your handling.
Power: This concerns how much bend your rod can handle. A rod with more power can handle bigger fish without breakage.
Action: A fast action rod bends closer at the tip, while a slower one bends towards the tail-end. The speedier response has a stiffer backbone that can handle bigger fish that fight harder.
Handle: Since you will be holding this rod for a long time, you want a comfortable grip with nice pads.
Types of Fishing Rods
Thanks to technological advancements, there are now many different kinds of fishing rods in the market. It is meant to address varying skills, types of fish, and various locations (river, stream, etc.). Take a look at them below to see which best suits your fishing style:
Fly Rods
As the name suggests, this is intended for fly fishing, so flexibility is a must. They are usually lightweight and small compared to the other poles in the market. They also come in a variety of shapes and sizes. The essential characteristic that makes this different is the missing butt piece after the reel, making your angling and casting simple.
Casting Rods
This one is designed for accuracy as you can place the bait precisely to lure the fish. It comes in two kinds: bait casting and spin casting. You can see the eye at the top of the fishing pole for easy and swift casting.
Ice Fishing Rods
Considered as the most ancient fishing rod, this has no reel but comes with two opposing hooks. You wind this by hand, so some effort is required. These rods are on the short side because ice fishing equates to a lack of available space. They also have lesser eyes when you compare with the standard fishing rod.
Spinning Rods
These are similar to a standard casting rod, but they are lighter and shorter. The primary difference is these come with a larger eye to help you reduce friction on your casting line. Another variance is how this is used. With casting rods, reels are placed on the top rod. In spinning reels, you suspend them underneath, providing you with a more natural way to fish.
Sea Fishing Rods
As the name implies, this is great for saltwater use. This is usually used on ships and boats, so their length is short enough to handle smaller boats but large enough to accommodate bigger vessels. These are colossal in size to capture hefty fish.
Trolling Rods
This is a rod that's for FUN with its primary use being to coax fish to foray. Typically, this rod is supported by a moving boat and aimed for catching large game fish. This is not great for regular fishing because it is built heavy.
Telescopic Rods
Another term for this is the supreme compacted rod because it can collapse and be closed. When compacted, they are around one or two feet, but they can go as far as twenty feet when extended. This is noted for having a flexible tip, which may make casting easier to handle. Some of these don't come with eyes.
Surf Rods
This is built to handle the surf of the sea, so they are usually long and durable. They are great for use with heavier sinkers and are great for casting in long distances. Since these rods are built with long kegs, you can use the two-handed method for throwing. This is akin to a longer and sturdier version of a spinning rod.