Skin brightening is one of the most popular trends in K-beauty right now. Brightening products usually consist of one or more brightening ingredients, which are supposed to help you quickly achieve that radiant glow. Skin brightening is a long process, so you have to use these products on a daily basis for a long time.
It's super easy to find Asian beauty products that promise skin brightening benefits since this is what Korean and Japanese women want the most – they're always striving for perfect skin without spots or hyperpigmentation. Contrary to popular belief, Asian girls don't aim for ghostly pale skin – they prefer a natural glow that is achieved with many layers of makeup.
Skin brightening products on the other hand are intended to fade dark spots, reduce the size of pores, and even out your skin tone. They are mostly packed with natural ingredients that are said to be gentle on the skin.
In this article, we will discuss some of the best skin brightening products in the market and we will try to answer one question: "Are skin brightening products good for acne-prone skin?"
Are Skin Brightening Products Good for Acne-Prone Skin?
If you have uneven skin tone, acne scars, pigmentation marks, or dark spots, regular exfoliation combined with the use of skin brightening products can help lighten them by preventing your skin cells from producing excessive melanin.
So when it comes to skin brightening products and acne-prone skin, are they good? Yes, but only when used in moderation. Here are some reasons why you should limit their usage:
1) They contain AHAs that may trigger reactions in acne-prone skin if not well-formulated.
2) They are best used on certain parts of the face. Be wary of products containing hydroquinone, glycolic acid, or other skin-brightening ingredients since they may cause additional irritation.
3) Do not use them on open acne lesions to prevent worsening of your acne condition. Many dermatologists recommend that you apply these products only every other day for two months, then reduce it to once a week for maintenance after initial results have been achieved. However, some say that if your acne-prone skin is able to tolerate chemicals without breaking out in pimples or causing redness and irritation then you can use lower concentrations of AHAs or glycolic acids (less than 6%) regularly. You can also try using skin brighteners less frequently after you have achieved your desired results.
4) Apply sunscreen to prevent further sun damage, which can cause dark spots and wrinkles. It's best to apply it after moisturizing since AHAs and glycolic acids make the skin more sensitive to the sun. To avoid irritation or stinging, choose a facial moisturizer with SPF protection that is specifically designed for acne-prone skin (optional).
5) Keep in mind that these chemical exfoliants are meant for blackheads, whiteheads, and mild acne breakouts only. If you have moderate or severe cystic acne, it is advisable not to use them at all.
Best Skin Brightening Products For Acne Prone Skin
Description: From the famous Korean brand Skinfood comes a popular gentle exfoliating mask that eliminates dead cells and deeply cleanses pores. Enriched with mineral-rich Brazilian black sugar, this mask works as an excellent exfoliator and leaves your skin feeling like silk. It's highly recommended that you use it once or twice per week in order to obtain a smoother and more even-toned complexion.
Scent: The scent of this product is strong but not artificial; it smells like real sugar mixed with lemon. So if you don't like strong smells, this mask is not for you.
Texture: The exfoliating mask contains both micro and medium-sized grains; the smaller grains make it difficult to rinse off completely, so make sure you use a cleanser (or soap) afterward.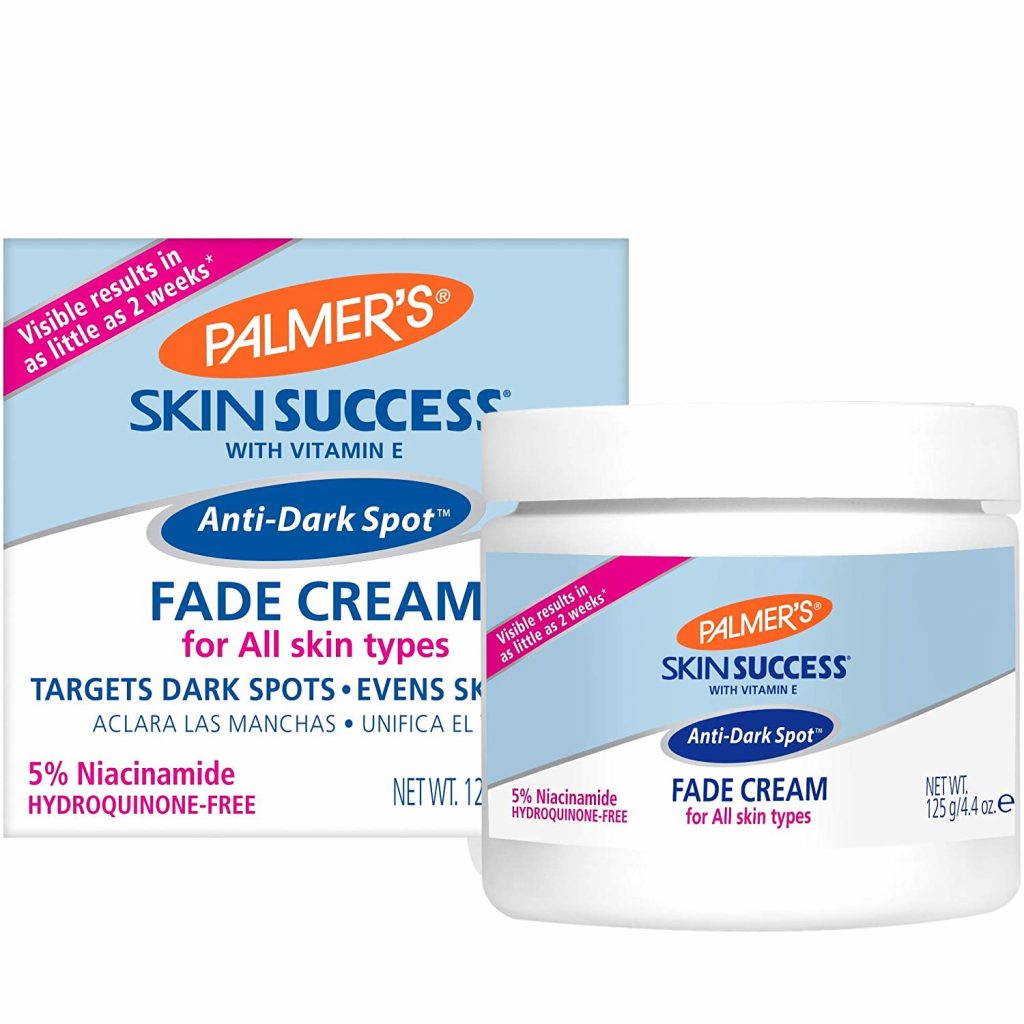 Description: This skin brightening cream corrects and prevents dark spots, freckles, age spots, liver spots, blotches, or uneven skin tone. The fade cream, formulated for dry skin, fades discoloration and leaves your skin looking flawless by effectively eliminating blemishes. There are no hydroquinone, parabens, phthalates, sulfates, MI, or dyes in it. The company strives for beautiful, healthy skin using only the highest quality natural, raw components; they promote sustainable Shea and Cocoa Butter and Coconut Oil cultivation worldwide. This is the best skin-lightening cream for dry and acne-prone skin.
Scent: There is no added fragrance in this product.
Texture: This cream has a light, smooth texture. It spreads easily and absorbs very quickly without leaving behind any residue or greasy feeling.
Skin Brightening Serum: Serums for Normal Skin

Description: The Liftosome serum from Guinot is a strong supporter of skin hydration. The Liftosome serum, which contains concentrates intended to encourage collagen production, vitamin A, and peptides, is meant to improve your skin's firmness while reducing fine lines. It is a great serum for brightening skin, as its components have been shown to reduce the production of melanin in skin cells.
It is a serum, not a cream. In fact, it doesn't have any moisturizing properties at all. It should be used after toner and other treatments to seal them inside your skin. You can also use this alone under other creams or serums for their ingredients to take effect while you sleep.
Scent: There is no specific scent to the product. However, it does have a slightly pungent smell due to its active ingredients.
Texture: This serum is very lightweight and absorbs quickly. It should be applied to the face after other treatments but before creams or other serums.
Description: This skin lightening cream/serum is a great product if you are looking to fade dark spots/blemishes. It is easy to use. Every night, apply a thin layer on your face, neck, chest, or any other location where you have unwanted pigmentation. It is not an overnight treatment but it will gradually lighten skin tone after consistent application.
The active ingredient in this CeraVe product is Vitamin C which has been proven to help with pigmentation issues by increasing collagen production and also serves as an antioxidant, preventing the breakdown of collagen caused by free radicals in the body (it is believed that ultraviolet exposure causes accelerated aging). Another great property of the CeraVe Skin Renewing Vitamin C Serum is that it contains hyaluronic acid which helps retain moisture for up to 72 hours.
Scent: This product has a mild citrus scent.
Texture: The texture of the CeraVe Skin Renewing Vitamin C Serum is similar to that of water and spreads easily on the skin. It absorbs quickly as well which makes it very ideal for layering under other products such as sunscreen during the day or oils at night.
Wrapping Up
Skin brightening products are a great way to improve your appearance and self-confidence. The science behind these products is that they can reduce melanin production, or at least inhibit its formation in the skin cells. There are many ingredients available for this purpose, such as Vitamin C (Ascorbic Acid), Niacinamide, Glycolic acid, and more. But what's important when choosing one of these serums is to make sure it has all the right ingredients you need; otherwise, you may end up with an ineffective product that doesn't do anything for your skin tone! We hope we were able to help answer any questions about selecting a serum and how best to use them.