Protein powders. Bodybuilders use them to boost muscle repair and growth as well as boost performance. And if you exercise regularly, you'll need additional protein in order to help your muscles recover and reduce the soreness in your body. The question is, what protein powder should you use? Obviously, one that will fulfill your protein requirements AND taste good. You can't exactly choose one that you need to force down your throat. Chances are, you'll abandon that protein powder sooner rather than later. Taste is also highly personal, so listening to one person's recommendation is not going to cut it. Which is why we decided to do our research on which protein powders are best for supplementing your daily protein intake and then choose the ones that most people recommend taste best. 
[lwptoc hierarchical="1″ numeration="none" skipHeadingLevel="h1,h4,h5,h6″]
Top 7 Tasting Protein Powders for Your Fitness Routine:
When it comes to the best tasting protein shake, Optimum Nutrition Gold Standard 100 Whey Protein Powder is at the top of our list. This product became the editor's choice for several reasons. First, this brand is well-known for its high-quality products. They've been around for over 30 years. This particular protein powder contains 24 grams of protein – a combination of Whey Protein Isolates and premium ultra-filtered whey protein concentrate. It also contains 5.5 grams of naturally occurring Branched Chain Amino Acids (BCAAs) and over 4 grams of glutamine and glutamic acid. All of these ingredients help reduce any fatigue you feel during exercise as well as help build muscle protein. Mixing the powder with any liquid is effortless which is not something you can say about all protein powders. What we especially like with this product is that it only contains around 3 to 4 carbs per serving. Plus, you can get seriously delicious flavors such as chocolate peanut butter, cake batter, and french vanilla. However, some flavors do come with sweeteners and artificial flavors. So, you should check the ingredients before making your final choice.
PROS
Well-known brand

Mixes easily

Various flavors
CONS
Contains artificial sweeteners

Some users found a few flavors too sweet
Those on a keto diet will be happy to know that there is such a thing as a low carb protein powder and that's Isopure Zero Carb. This powder contains ZERO sugar but it is loaded with 100% whey protein isolate to help build and repair your muscles after you exercise. Sounds great, right? There's more. Aside from 25g of protein per serving, you also get some vitamins and minerals such as vitamins A, C, and E as well as Zinc, Folate, and Manganese. This vitamin and mineral blend makes it a great alternative to a healthy breakfast when you're in a hurry. It also makes it a great post-workout meal. And for those on a diet? You'll be happy to know that this protein powder makes you feel full between meals, making it the perfect choice for those who are looking to lose weight or maintain it. As an added bonus, this protein powder does not contain gluten, lactose, or any additives. More importantly, it comes in a variety of flavors such as strawberry and cream, dutch chocolate, vanilla salted caramel, and cookies & cream.
PROS
Offers low carb and zero carb options

Various flavors

Includes a vitamin and mineral blend
CONS
doesn't mix well

contains artificial flavors
Chocolate protein powders are a dime a dozen. But if you want one that's delicious and organic, then Tera's Whey Organic Protein is the only way to go. The protein is certified USDA Organic sourced from small family farms in Wisconsin. Aside from being organic, this product is also Fair Trade certified, certified gluten-free and non-GMO as well as rBGH/rBST and antibiotic-free. Each serving contains 20 grams of whey protein and only 5 grams of carbohydrates. The shake tastes semi-sweet because it contains organic stevia which makes it the perfect choice for those looking for a low glycemic option. Drinking this protein powder not only curbs your hunger and helps you repair your muscles after a good workout, but it also enables you to get your chocolate fix and stick to your healthy diet. The only drawbacks to this protein powder are the fact that it's pretty expensive compared to a lot of other options and it requires a bit of time and effort to mix well.
PROS
Fair Trade certified

Certified organic

Low glycemic
CONS
Pricey

Takes time to mix well
Sprout Living Epic Protein Powder is not only the best vanilla protein powder, it's the best tasting vegan protein powder. How about that? This little baby is a nutrient-rich superfood blend that contains exotic lucuma fruit and delicious vanilla bean. It contains 19 grams of vegan protein and 4g of dietary fiber sourced from the yellow pea, pumpkin seed, sunflower seed, Sacha Inchi, and cranberry seed. Sacha Inchi, by the way, is a plant from South America that promotes weight loss, helps you reduce abdominal fat, and moderates cholesterol. Another ingredient in this product is Jerusalem Artichoke. This is considered a super root because it contains loads of prebiotics necessary for good gut health. Moreover, it helps boost your immune system. As an added bonus, there are no artificial flavors or sweeteners. The sweet taste comes from Lucuma which is a fruit from Peru believed to have some health benefits. Like our previous choice, this protein powder is certified organic, certified kosher, grain-free, non-GMO, soy-free, and gluten-free. And all of these claims were tested and validated by an independent third party. So, it's not all marketing! However, the packaging leaves something to be desired. The zip on the bag doesn't close well. You'll need to put it in a sealable container. In addition, it contains 15 grams of carbohydrates. Plus, due to the ingredients, the texture of the shake can be pretty gritty. 
PROS
All-natural ingredients

Third-party tested

Delicious vanilla taste
CONS
Poor quality ziplock bag 

Contains 15g of carbs

Gritty texture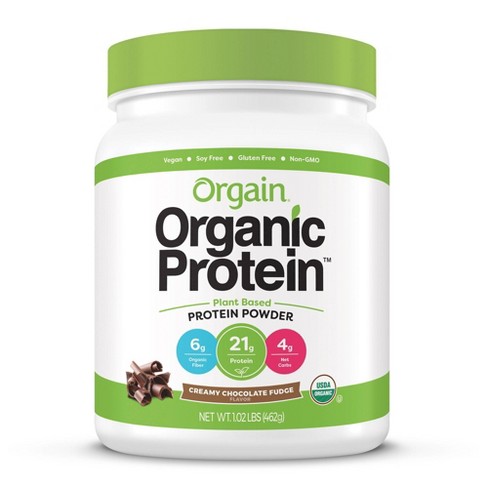 Orgain Organic Plant-Based Protein Powder is definitely one of the best tasting protein powders for vegans. Not only is it 100% organic, this vegan protein powder is gluten-free, kosher, non-GMO, and free of any artificial flavors. It contains 21 grams of plant-based protein per serving, 5g of organic fiber, and 4g of carbohydrates. The ingredients include protein sourced from pea, brown rice, and chia seeds. We love the creamy chocolate fudge taste (very rich, very creamy) as well as the fact that it uses natural sweeteners such as stevia. However, some people dislike the taste of stevia. Another thing you should note is that it does require quite a bit of blending if you don't want to taste the grittiness. But compared to other plant-based protein powders, this one is much smoother overall. Moreover, the container is huge but only half-filled. All of that being said, we really love this pea protein powder. 
PROS
Certified organic

Very rich and creamy

Smoother texture
CONS
Not everyone likes the taste of stevia

The container is only half-filled
If you're in the market for the best tasting flavorless protein powder, then Jarrow Formulas Whey Protein is the one for you. It dissolves into your liquid easily and you won't even notice it there when you're drinking down your smoothie. This product contains 100% ultra-filtered whey protein and lecithin sourced from sunflowers. That's it. It doesn't contain any artificial flavors or sweeteners. There are also no added hormones. You get a total of 18 grams of protein per serving which include 3.8 grams of Branched Chain Amino Acids. What we really love about this unflavored protein powder is that you can pretty much mix it with anything. You can add it to your smoothie, yogurt, pancakes, oatmeal, or cereal. You can even mix it in your soup or chili if you need to up your protein intake even more. Even better, it has only 1 gram of carbohydrates. If you're on a low carb diet and want something with no flavor, Jarrow Formulas Whey Protein Unflavored is pretty much what you're looking for. Just take note that it has fewer grams of protein per serving compared to most of the items on our list.
PROS
Mixes well with anything

No artificial ingredients

Low carb option
CONS
Lower protein amount per serving
The best vanilla protein powder that's not plant-based is the Ascent Native Fuel Whey Protein Powder. It's quite delicious and a great option for those who don't like the texture of pea protein. Of course, this Ascent protein powder has a lot more going for it than just its taste. Did you know that one scoop of this powder is equal to drinking three cups of whole milk or 4 large eggs? Yes, one serving provides you with 25 grams of protein – more than what most other brands offer. That's not all. This post-workout powder is made of native whey with 5.7 g of naturally occurring BCAA's, 2.7g of Leucine, and 12g of Essential Amino Acids. There are no artificial ingredients. The sweetener used is a monk fruit extract, so that's natural too. More importantly, it has zero calories and carbs. As an added bonus, this product is certified gluten-free and Informed Choice certified. However, the packaging isn't so great. Also, some people feel a little gassy when drinking this protein powder.
PROS
25g of protein

zero artificial ingredients

Informed Choice certified
CONS
faulty packaging

can make you gassy
FAQ:
What's in a protein powder?
Protein powder is exactly what it implies – a powdered form of protein. It can be sourced from animals such whet protein (e.g. milk) or plants such as hemp protein. These powders can include other ingredients such as vitamins and minerals, additives such as a thickening agent, and sweeteners. 
Do you really need to drink protein powders?
Protein powders are not a necessity. They're a supplement. What this means is that you can easily get the protein you need just by eating or drinking the right foods such as eggs, chicken breast, seeds, nuts, whole grains, beans, fish, milk, and cottage cheese. Athletes tend to rely on protein powders a lot because their daily intake of protein should be around 0.54 to 0.91 grams per pound of body weight. And they need to time their protein intake in between workouts in order to maximize their effect – the recovery and growth of their muscles. But for non-athletes, eating your recommended daily intake should be enough. That being said, when you're super busy, a protein shake is very convenient. Just make sure that you only consume protein powders if you need the extra protein.
How do you pick the protein powder that's right for you?
Choosing the best protein powder for you requires you to consider several different factors such as the type of protein (e.g. vegan protein), nutritional content, flavoring, and sweeteners. Take note that the best protein source differs from one person to another. And the best tasting protein powder will be entirely up to your preferences. It is recommended that you try a little of each protein powder that you think you'll like before buying a large amount. 
How many grams of protein powder should I take per day?
It depends. If you wanted to build muscle, the recommended amount will depend on your weight and what you are trying to achieve. The formula is your weight times 1.5. The answer is the amount of protein powder you need to consume on a daily basis. You can then divide that number by 5 or 6, so you get a manageable amount of protein per snack or meal. 
Is plant-based protein powder better?
Vegan protein powders are just as good as whey protein powders. One benefit of whey protein is that it contains all 9 essential amino acids that your body needs but can't make on its own. You can't say the same for all plants. So, you have to be careful in choosing the protein source used by the manufacturer. Pea protein, according to research, is the only one comparable to whey protein.
Should I take protein powder if I'm on a weight loss journey?
According to research, a high protein diet is actually going to help you burn fat more effectively when coupled with regular exercise. 
How often should I drink protein powders?
Most manufacturers recommend that you should use the protein powder as a post-workout drink. But you can also drink it as a snack between meals. Keep in mind that there is no one-size-fits-all plan. The frequency will depend on how much protein you need to consume per day.