Envisioning an ideal home usually includes the ultimate gourmet kitchen! Most of us fantasize about a spacious kitchenette that is perfect for entertaining with unlimited counter space and the storage capacity that makes for easy organization. Unfortunately, for many of us, a gourmet kitchen is not our reality but that doesn't mean that one cannot enjoy a small kitchen especially if space is cleverly utilized following these eight space saving tips.
1. Have Everything to Scale
This is not the time to invest in that massive double door refrigerator or that six-burner stovetop. Everything from rice cookers to sinks must be at the appropriate scale to your kitchen size. Fortunately, they are plenty of appliances available that may be small in size but not small in performance.
2. Open Concept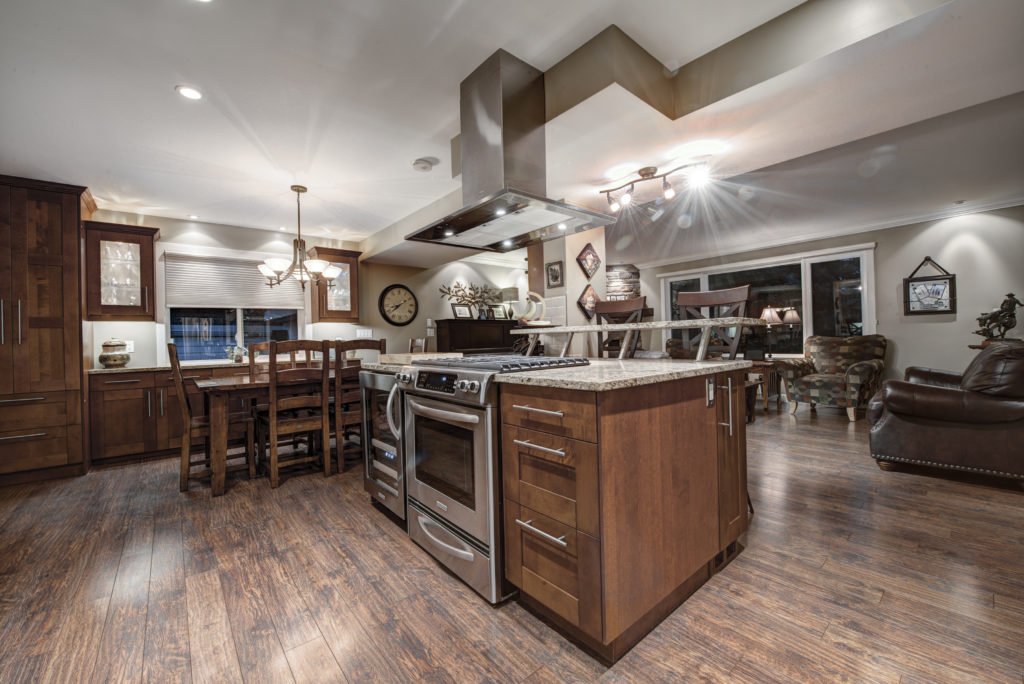 Regardless of your design preference, whether it's rustic, modern or you're rocking your best country kitchen decorating ideas, you can never go wrong with having an open concept. Not only does it look great, but it offers a very practical solution to having a small space. It opens up an area and makes it less claustrophobic. Even if you cannot remove a whole wall or widen an entryway, just simply detaching a door can really contribute to making space appear larger.
3. Less Is More
When it comes to small spaces, minimalism is essential. Since storage space is sparse, you should only have in your kitchen items that are used regularly and that are functional. This is not to say you can't have things that you absolutely love but try to find a happy medium. The last thing you need is a vital space being used for nonessential appliances and other items.
4. Get Rid Of The Clutter
In keeping in line with less is more, when having a small kitchen or any space in general, the rule applies: 'Everything must have a place and every place must have a thing.' Small kitchens get untidy very easily so having everything organized and put away in its proper place is a must! Nothing makes a tiny kitchen look even smaller than cluttered countertops.
5. Use Practical Additions
Useful additions like a pullout pantry or a butcher's block table are invaluable when needing more space. A pullout pantry can fit into constricted vertical areas and pull out (hence its name) easily for accessibility. A kitchen pantry organizer is another great solution to escape mess in your kitchen storage. A butcher's block table can also fit into limited spaces and can act as an island. Some of them come with wheels so you can place them anywhere you need it. It can also provide an additional worktop space along with a place to store items.
6. Ditch The Dining Set
Sometimes a kitchen is too small to have a dining area. Have no fear, breakfast bars are here! Invest in a couple of barstools and voilà, you're in business. A breakfast bar goes hand and hand with tiny kitchens. Who needs a dining table and chairs when you and your guests already have a place to gather together and enjoy a meal!
7. Install Floating Shelves For Space Saving
Cabinets are bulky and can make a small kitchen look too closed in. Installing floating shelves opens things up and makes an area look larger without sacrificing storage space. Regardless of your personal decorating inspirations, they fit in well with any style. Since items will be exposed, make sure that everything is organized and is neat. As stated earlier, clutter is a small space nemesis.
8. Hanging Pots and Pans
You can either install a ceiling-mounted rack or you can mount a rail on your wall for your hanging pots and pans and additional cooking tools. It is a great way to utilize every part of your kitchen for space as well as adding an attention-grabbing flair to your décor inspirations. It also makes what you need effortlessly reachable.
These suggestions only scratch the surface of the many options out there that can help use your restricted kitchen space to the full. If you are struggling with how to execute any ideas and if you can afford it, bringing in a professional can do wonders. A kitchen designer is skilled at making the most out of every space. He or she can turn your small cramped kitchen into a spacious looking efficient area that you can be proud of!